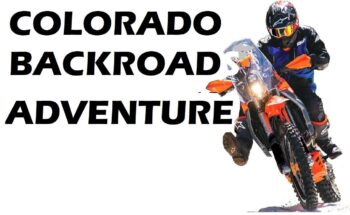 Show up on Thursday Aug 25 at the Ute Casino in Cortez, CO.
The Club has made Lodging reservations or Camping is available.

Lodging reservations will be held until Thursday June 30, 2022.

Lodging and camping info will be sent after Sign-Up Confirmation.

If you sign-up after JUne 30, we cannot guarantee you will have a lodging reservation at Cottonwood Hot Springs.
SIGN-UP DEADLINE is JUNE 30 2022
Sign-Up instantly using PayPal .
You do not have to be a PayPal Member to use PayPal.
Check out PayPal's Buy Now, Pay Later option on the Sign-Up page to Sign-up now. 0% interest and 6 months to pay
Join the Club for the COLORADO BACKROADS DISCOVERY ADVENTURE and THE RIDE IS included with your membership.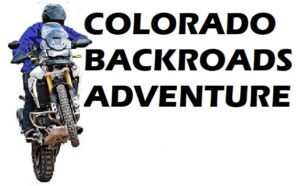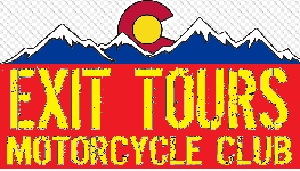 DISCLAIMER:
Hazards DO exist on our routes, such as downed trees, washouts, rocks, etc. and will NOT be marked in any fashion.
All routes are publicly-accessible so you may also encounter other riders and traffic.
Uphill Traffic has the Right-Of-Way
Riders need to use caution and common sense at all times.
Stay to the right when possible, particularly around blind turns.
We discourage you from riding alone and encourage everyone to use the

BUDDY SYSTEM
__________________________________
We will not have checkpoints throughout the day or sweep riders to keep track of you.
We may provide "outriders" to help you if you need a shortcut to the finish or have questions along the way, but they should NOT be considered "sweep" riders:
If you get stranded we will of course do what we can to bail you out, however if we need to arrange evacuation, medical aid, or any other form of rescue assistance for you there may be a an outside charge associated with that assistance.

We will have a Sign-Out sheet in the morning. We insist everyone Sign-out in the Morning and Sign-In back in when you get back in the Afternoon.

Please do not make us call your In-Case-of-Emergency contact by forgetting to Sign-back-In.
___________________________
These Rides are for competent, licensed, insured riders with a street legal, quiet motorcycles with a USFS approved spark arrestor.
By competent we mean having the necessary ability, knowledge, attitude and skill to complete these rides successfully.
______________________
By participating in ANY Club event every Club Member takes full and sole responsibility for their actions and well-being, without exception.
All participants are on their own, riding at their own pace, at their own risk, and always have the option to follow the designated route or to follow another route of their choosing.
Exit Tours M/C rides are non-competitive, self-guided, non-commercial, recreational club rides for members only paying for the amenities with the ride.
____________________________________________
Q: Why do these rides cost what they do?
There is no economy of scale.
But since there will not be 200 riders you are guaranteed a more comfortable environment.
Liability Insurance, art, website, web hosting, accounting, book-keeping, facility rentals, printing…
Meals included with the rides, tents and trailers and our Club Members time, fuel, tires and lodging all add to the cost.
Exit Tours M/C is a Colorado Non-Profit Corporation, and we will be donating a portion of any proceeds to the Blue Ribbon Coalition.
Your ride fee assures the ongoing promotion of more motorcycle adventures.
REFUND POLICY:
If you withdraw your participation before a ride :
There is a 50% REFUND on the COBDR ADVENTURE if you withdraw 60 days or more in Advance.


If you withdraw in fewer than 60 Days there is no Refund.

If you withdraw from this ride your payment for shared group expense amenities will be forfeited or MAY be transferred to another rider.
A $20 Fee @ Sign-In will be required for Rider Changes
_________________________________
If Exit Tours Motorcycle Club cancels a ride we will make all attempts to provide an equivalent ride on an alternate date.
If we do this then your prepaid shared group expense payment may be transferred to the new ride date, or if you cannot attend the new date, a 100% refund for shared group expenses will apply less PayPal Fees.
Our rides are all-weather. Rides will not be cancelled, regardless of weather conditions, and refunds will not be given for shared group expense amenities. Nor will they be transferred to another ride or rider.

Cost of Club membership for the COBDR Adventure is $100 a Day. $700.
There is NO option for fewer days.

These are approx prices and some of what is Included for the COBDR Adventure ride Aug 25 to Sept 1:
Phone compatible Ride with GPS Tracks and RWGPS Club membership.

Discounted lodging at the Ute Mountain Casino near Cortez, Colorado on Thursday Aug 25.

Discounted lodging Sunday night and Monday night at Cottonwood Hot Springs Resort near Buena Vista, CO.

Discounted lodging at the Ladder Ranch on the Wyoming Border on Sept 1, Day 7


Lodging discount codes will be supplied after Sign-Up Confirmation.

You will need to Call the Ute Casino to confirm and hold your own reservations under Exit Tours.

Rooms at the Ute Casino in August are around $120 (Tax included) or you can camp in a nice shaded campground for $35.

We'll have a included banquet Thursday evening Aug 25 at the Ute Casino

The Hot Springs in BV on days 3 & 4 you have a choice of 2 beds, 1 king, a dorm room , or you can camp at the Hot Springs.

From $45 to $150 per night for 2 nights. Includes soaking and a clean towel.

The club will buy steak dinners on Day 3 in Buena Vista.

Breakfast burritos will be available for order, purchase and delivery on Day 4 and to start Day 5 in BV

Day 5 we will stay at the Glenwood Canyon Resort, or you could stay in Gypsum. Info sent with Sign-Up confirmation.

The Ladder Ranch is $20-75 for a bed in a cabin or $10 to camp. (Limited cabins)

We will email contact Info for the Ladder Ranch with Sign-Up confirmation

$30 for dinner on Sept 1 and $10 for breakfast on Sept 2 at the Ladder Ranch

The club will make breakfast when we are camping on days 2, 3, and 6 & 7.

Breakfast will be available for purchase on days 4 & 5

Breakfast at the Casino on Day 1.

The Club will Transport your gear so you may ride unencumbered by camping gear.

We will keep your ice chest stocked if you give us a list and cash every other day or so.

There are several loops to Mountain passes not on the COBDR you could ride on Rest Day 4 in Buena Vista, if you would like to ride more in the Heart of the Rockies.

Loops on Monday could be 80 to 150 miles loops.

Ride with GPS tracks supplied for Loops near BV.

Or you could just rest and enjoy the Hot Springs.

Shoot us an email with any Q's:

exittoursmc@gmail.com