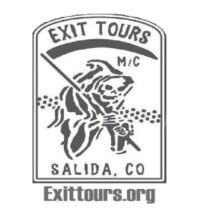 Ready to step-up your Dual Sport or Adventure Game ?

Exit Tours Motorcycle Club's Adventure & Dual Sport Rides aren't your grandma's Sunday outings.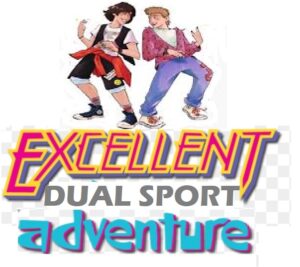 Here's why you should grab that helmet and roll with us:
No Detours, Just Pure Thrills
We're taking you right into the beating heart of the Rockies and the West, no compromises. Our Adventure rides are a punch of pure adrenaline and untamed wilderness, and some twisty roads, the kind that'll have you coming back for more. Our Dual Sport rides use as little Pavement as possible.
Not a Crowd, A Brotherhood
Capped at 25 riders, our Adventure rides are the epitome of an intimate rock fest on wheels. Forget being a face in the crowd; you're joining a gang of rebels, united by mud, sweat, and the quest for the ultimate ride. Dual Sport rides are limited to 70 Like-minded enthusiasts.
Hidden Tracks & Untamed Backdrops.
We've got VIP access to the Rockies' and the West's best-kept secrets—from secluded lakes to panoramic ridges to old railroad tracks. It's an off-the-grid adventure playlist you never knew you needed.
All-Inclusive logistics', No Fuss
Forget logistics; we've got your back. From GPS setups that work seamlessly with your phone to emergency support, gear portage and some meals, consider us your roadie crew. Plus, you'll score some rad swag—a killer T-shirt and pin—to show off your adventurer cred.
Your Ride, Your Tempo.
Whether you're into camping under the stars or crashing in lodges, we've got you. Our Ride With GPS tracks mean you set the pace. No guides, no rules—just you and the open trail.
Amped-Up Safety, No Buzzkill.
Our Buddy System and expert-approved routes are all about ensuring you can max out on the thrills without worrying about spills. We've got your back, so you can focus on the ride.
Rockstar Experience, Garage Band Pricing.
At $425, you're getting more than just a ride—you're getting an experience that'll be the stuff of legends. And if you're up for an encore, we've got discount rates that'll keep the good times rolling.
Unleashed and Unapologetic.
If you're searching for a leisurely tour, swipe left. Our rides are a full-throttle challenge, designed to stoke your inner rebel and deliver an adrenaline-packed sense of accomplishment. At your pace.
Exit Tours MC—Where Legends are made
So, are you in or what?
Join an Exit Tours Motorcycle Club's Adventure or Dual Sport Ride for a high-octane, unforgettable odyssey through the Rockies & the West. Discover hidden treasures, forge lifelong bonds, and create stories you'll be talking about for years.
Time to take the ride of a lifetime. You in?