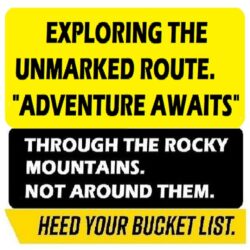 Exit Tours Motorcycle Club, the ultimate destination for Adventure & Dual Sport motorcycle enthusiasts!
The club offers non-competitive recreational Club Dual Sport, Singletrack & Adventure rides that consist of as much dirt and as little pavement as possible.
Any competent Rider can join.
There are no meetings, workdays or Politics involved.
Navigation is by Phone compatible Ride withe GPS tracks routes of the perfect destinations for those of us that love to explore off-road terrain.
There are no Guides on our rides.
You leave when you wish, ride with whom you wish.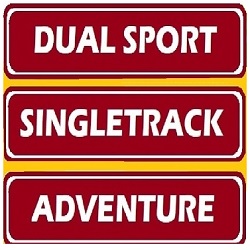 Here are some reasons why Exit Tours Motorcycle Club is your go-to for adventure motorcycle club and Dual Sport & Singletrack Trailrides:
Any Competent Rider Can Join
Exit Tours MC believes that anyone who loves adventure and has the necessary skills should join us for a thrilling ride.
There are no invitations required, and we welcome all enthusiasts who have street-legal, plated, insured, and quiet motorcycles capable of being ridden on dirt roads, singletrack trails, two-track, jeep roads, and pavement.
Easy Navigation with Ride with GPS Tracks
We provide Phone compatible Ride with GPS tracks for all our rides.
You can download these tracks to your Garmin or use your phone with voice navigation or an electronic cue sheet to follow the loops you wish to ride.
You would also be asked to inform us of the specific loop you intend to ride and complete the check-out procedure in the morning prior to your departure.
When you return, check in on the same sheet.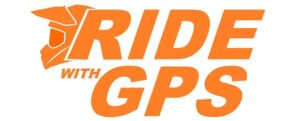 Ride with GPS Club Membership Included
Your adventure motorcycle club membership includes a Ride with GPS membership.
This allows you to plan which routes you wish to ride .
You use this app to navigate during the ride.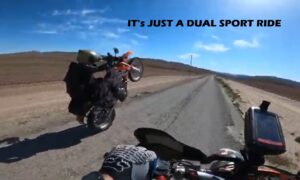 Less Pavement, More Scenery
Exit Tours MC strives to minimize the use of paved roads and instead prioritize the enjoyment of off-road terrain, scenic routes, and 2 track.
The club only uses pavement when necessary to connect dirt loops and access amenities, ensuring a hassle-free experience that lets you fully appreciate the beauty of the ride without the hassle of dealing with traffic. Or wearing out your tires on Pavement
Customized Rides for Different Types of Bikes
We suggest dirt-orientated dual-sport motorcycles on the Dual Sport loops, plated dirt bikes on the Singletrack loops, and Adventure bikes for the ADV loops.
This and choosing your routes on Ride with GPS ensures that every rider can have a personalized experience that caters to their needs.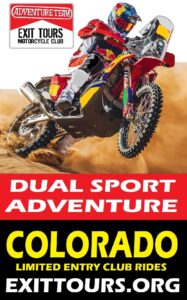 Low-Key, High Adventure, No Hassle
Exit Tours MC Club rides are a "low-key, high adventure, no hassle" self-guided tours.
Exit Tours Motorcycle Club provides several options for navigation, including GPS Tracks, GPX tracks, voice navigation, or a GPS Track Cue Sheet roll chart to help you navigate through the unmarked routes.
Before the rides, GPS tracks, maps, and cue sheets will be emailed to you.
RWGPS allows you to enjoy the ride at your own pace without feeling rushed or pressured.
Club Membership Cost
The first and last ride of the year are $325 to Join
Your First ride in a Calendar Year is $425
Your 2nd or subsequent rides in a Calendar Year are $325
All rides Include Staging on Private Property, Camping or Lodging on You.
Gear Portage and a Chase Truck
Several meals and beverages
T-Shirt
Pin, stickers or a coffee cup
Ride with GPS Tracks
The enthusiasm or your Like-minded Club members
3 Exceptions:
The Father's Day ride to the Aline Tunnel Historic District is Free
The 7 Day COBDR Adventure is $100 a day / $700
The Cuban Adventure Rides includes Guides and are All-Inclusive. 4 to 5 Thousand dollars for 9 & 10 days including BMW GSf 700's
2 rides in Western Cuba. One in Eastern Cuba in 2024.
Final thoughts!
Exit Tours Motorcycle Club is the destination for Adventure and Dual Sport motorcycle enthusiasts looking for a thrilling and customized experience.
You can be sure that you'll have an unforgettable experience with our adventure motorcycle club.
What are you waiting for?
Join us today and embark on your next adventure!
Why GPS is Better than a Paper Map