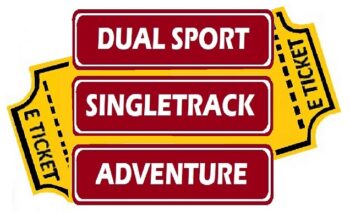 OPERATING PLAN –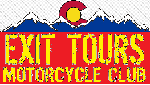 RIDE DESCRIPTIONS
Exit Tours Motorcycle Club rides are "Low-key, no-hassle", self-guided tours, using GPS Tracks to navigate an unmarked route. These rides are intended for street-legal, licensed motorcycles that are capable of being ridden on rough dirt roads, two-track jeep roads, and trails.
Your motorcycle must have a USFS approved spark arrestor and excessive noise is a big issue as it is used to limit our right to ride. Your motorcycle should be street legal in the state it is licensed. You also must have current liability insurance coverage and be licensed to operate a motorcycle. In Colorado you also must obtain a Colorado OHV sticker to access forest trails.
Our Dual Sport and Singletrack rides are non-competitive and consist of as much dirt and least amount of pavement as possible.
Because the bikes are all street legal, events start from a private property, travel on highways and roads to access dirt roads and trailheads. There may be all day loops out of a central location. Or there may be overnight routes in a loop where we may transport your overnight gear.

Since you will be self-navigating the route, there is no official start time, you may start any time you wish, but typically before 9 am we like to see everyone on the trail. We do not ride in large groups.

We insist everyone use the Buddy system and look out for each other throughout the day. There are no guides.
With all the widespread OHV closures, knowing where to go and how to get the best time out of your riding day is now more valuable than ever before. We have scouted out the best routes and eliminated the dead ends, private property fences, closed routes and road blocks.
We average fewer than 50 riders per ride, usually over multiple routes of the riders choosing. Riders spread out, yet get to know new people, find new riding partners and enjoy the great camaraderie of your fellow enthusiasts.

We plot out the gas stops, food stops, lodging, and all the logistics work for a fun and efficient day of riding. If you want a fun time, good challenges, the best balance of roads, trails, and incredible scenery, and no work putting it all together, this is it.
The Club's Adventure Rides usually stage from an Airport, a Hotel or private campground.
The adventure rides are most of the time one loop to an overnight destination, where the club will haul your gear so you may ride unencumbered.
Adventure rides to an overnight location may be to a private campground or hotel. Lodging is not included with Club membership, but campsites usually are.
On most Adventure rides the club will cook breakfast when we are camping, supply a kitchen and BBQ where you can cook dinner when we are camping, or the club may purchase a few meals. Lunch is not usually included as you are on the route.
Our Adventure loops are on Adventure bike suitable terrain, meaning you could drive your Mom's Subaru over the routes.
In 2023 your first ride is included with club membership and all rides are open to members only. There is no qualifying, no politics, no required workdays or required meetings. Just sign-up and you're in.
Enjoy the camaraderie and interaction with other riders on the trail and around the campfire. These rides aren't for everyone, but if you want something different or better than the riding you and your friends are doing, maybe this is the year to try one of our rides. Find out for yourself what you are missing.

At sign-in you will be required to sign a liability release form and you will receive a T-shirt, swag and stickers.
NAVIGATION
These are self-guided tours where each rider uses a GPS track to navigate their own way. There are no course marking and no guides.
You do not need a dedicated GPS Unit. Our GPS tracks are mobile phone compatible, even without cell service, just download the App and download the specific tracks for the route of your choosing. Or download the routes to your GPS unit.

A charging system and a mount for your phone or GPS unit to run off your 12v motorcycle battery is a must have. There are many ways and options to charge your phone from your motorcycle battery. If your bike doesn't have a power outlet, you'll need to add an aftermarket one to run your phone will not run GPS all day.
MORE INFO
We will offer multiple loops on Dual Sport rides, from casual to challenging.
If you want lots of 2 track and mountain passes, singletrack and less road than typical "dual sport" rides, you'll get a full day's ride of what you like.

We ride through many interesting, out of the way and unusual places most people seldom see. Most routes pass by some incredible Colorado Mining & Old West history.

Our creative routes and GPS Tracks are the most foolproof way to avoid getting lost, have fun and nullify the need for the archaic, stop-wait-and-go-follow-the-leader of a typical trail ride.
TYPICAL RIDE OUTLINE
Self-navigation by GPS Tracks. Multiple Loop options available on Dual Sport rides
No Trail Markings. No Sweep Riders

Chase Truck. Local Support

We insist all riders use the buddy system and look out for each other
Riders are not paying for the ride but the Amenities with the ride, which could include:
GPS Tracks, T -shirt, hat, coffee cup, access to private property, participant pin, breakfast & dinners. Swag drawing. Circus tent rental. Event Liability Insurance. Private property rental.
Club Membership for 2023 is $425 and includes one ride
Additional rides for club members are $325 in 2023

Your Dad, spouse, uncle or adult children may ride in Colorado with a Club member for $299
Luggage portage on most point to point rides
Start and finish on Private property
Lodging is Not included (Camping may or may not be included)

Ride with GPS Club Membership is Included with Exit Tours Club Membership

Vintage Dual Sport would include Swap Meet and Bike show
Extra-curricular activities available: Rafting and Hot Spring Pools. Mountain Bike Shuttles, Hiking. Shopping. Rock Hounding. Jeep rentals.
ECONOMIC IMPACT
Every event will have an Economic Impact on the Community which hosts said event.
The 'economic impact' of an event refers to the total amount of additional expenditure generated within a defined area, as a direct consequence of staging the event. For most events, spending by visitors in the local area is the biggest factor in generating economic impact; however, spending by event organizers is another important consideration

The Direct Economic Impact is a measure of the total amount of additional expenditure within a defined geographical area, which can be directly attributed to staging an event. Based on visitor and organizer spending, Direct Economic Impact is the net increase in spending as a result of an event.