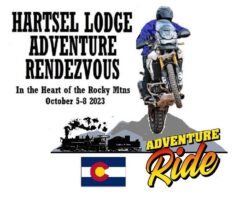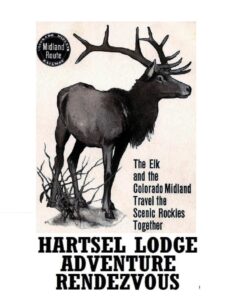 The Hartsel Springs Ranch is in the geographic center of Colorado
with Adventure riding opportunities in every direction.
Ride when the Trees are Changing Colors in the Rocky Mountains from October 5-8 '23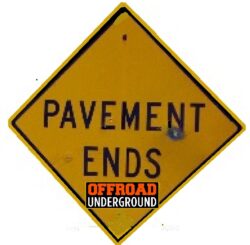 The Hartsel Lodge Adventure Rendezvous is 4 Days of Adventure Rides.
With over multiple loops over Rocky Mountain Passes looping back to the Lodge each day.
This Adventure ride will be suitable for 250cc Dual Sport to Open Adventure Bikes.
With over 16 Loops available.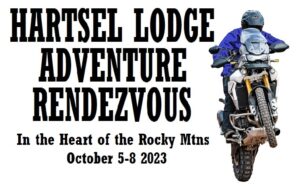 The selection of routes are dirt roads, 2 track and as little pavement as possible.

3/4 of the routes will be 2-up friendly.

The rides starts on County Road 59 just outside of Hartsel, Colorado off of Hwy 24.

Where Tent camping, Lodging and RV Parking is available.

1/4 of the routes are somewhat Challenging, if that's what your looking for.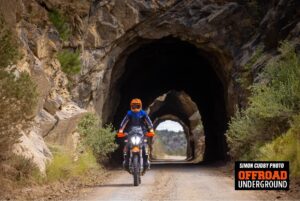 The HLAR will be an Exit Tours Motorcycle Club event, which anyone can join.

No Meetings, workdays, seminars or Politics involved or required.

Just Sign-Up and Ride.

Hartsel Springs Ranch is on the South Platte River with Gold Medal fishing opportunities on the property.

October 5-8 '23 when the trees are changing colors, with camaraderie, campfires and a few meals and beverages.


Enjoy the beaucoup Adventure Loops, with phone compatible GPS Tracks. With Turn cue voice navigation.
When the 11 Mile Canyon Reservoir was built on the South Platte River in the 40's, some of the old log cabins in the canyon were relocated to the Ranch.

Most of the Cabins were recently renovated.

The Lodge itself is Top Shelf and Outstanding. With 6 bedrooms and a professional kitchen.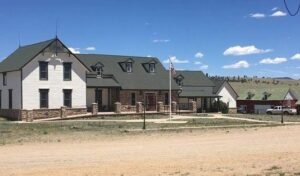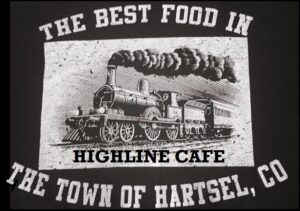 There is plenty of room for RVs and tent camping.

Secure truck parking is available.

The Town of Hartsel is 2 Miles away, and has a good restaurant and a fun Bar.

Fuel is available in Hartsel.
Most of the Adventure Loops will be suitable for Pan Americans & Himalayan's, and will be 2 Up suitable, while other Loops can be more challenging…Your choice what you ride and who you ride with. Leave when you want since navigation is by GPS tracks.

Cost of membership for the Hartsel Lodge Adventure Rendezvous will be $425, or if it's your 2nd or subsequent club ride in '23. $325.

Your Choice of Lodging and Camping is on you.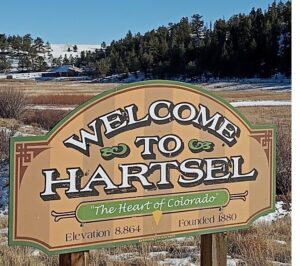 Included with the Rendezvous:
GPS tracks for 16+ outstanding Adventure loops you would not typically do on your own.

Staging on private property in the Heart of the Rockies

The opportunity to Lodge or Camp at a Historic ranch with Platte River access
The camaraderie of Like-minded enthusiasts

Breakfast Fri-Sun

Coffee

Dinner Sat Night

Adult beverages
BBQ & Kitchen Access

Ride T-Shirt & Coffee Cup

A Chase Truck

Restaurant & Bar down the street
And the opportunity to ride to Iconic destinations you typically would not ride to.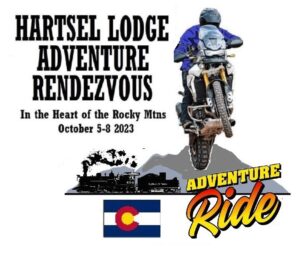 Where is Hartsel, Colorado and the Hartsel Lodge Adventure Rendezvous ?
Hartsel is the closest community to the Center of Colorado, in the southern Southpark Valley on the Middle fork of the South Platte River.

Between Antero, Spiney and 11 miles Canyon Reservoirs.
ALL PHOTOS ARE CLICKABLE