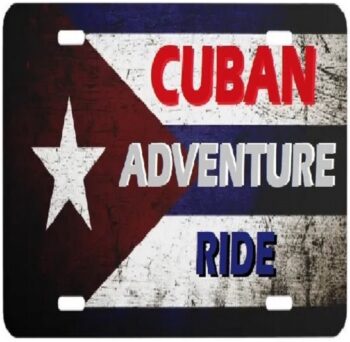 LODGING AND DINING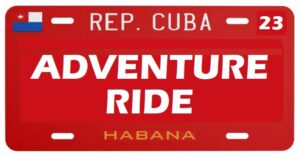 The U.S. "Support for the Cuban people" license allows individuals to travel freely to Cuba as they wish.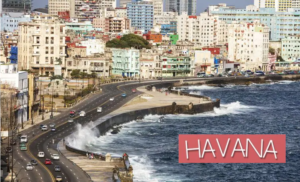 Day 1: Meet in Havana
Our support vehicle will pick us up at the Airport and we'll head to our B&B in Old Havana.
We'll meet this evening at our B&B in Habana Vieja (Old Havana) for a welcome reception.

Meet with our Cuban Motorcycle Guide Luis Enrique González Saez.

Our welcome dinner will be nearby at Chacón 162, a popular 'bikers bar' and restaurant.
Meals: Dinner
Overnight: Posada de Chacón or similar (B&B), Havana
Day 2: Stage 1 Habana Vieja / Greater Havana / Bay of Pigs
After breakfast, we'll pick up our Motorcycles and get familiar with them on a Circuit around greater Havana.
Then head east via the Escaleras de Jaruco hills and Madrugada, and along the Autopista (the freeway) and via the Zapata Peninsula to Playa Larga ("Bay of Pigs").

Overnight by the beach where the CIA trained Cuban-American exile army came ashore in April 1961.
Meals: Breakfast & Dinner
Overnight: Hostal Enrique (B&B), Playa Larga
Day 3, Stage 2: Cienfuegos / El Nicho / Trinidad

This morning you'll be glad for the F700s as we'll follow a dirt track along the along the Caribbean shore to reach the bay city of Cienfuegos.
After lunch in Cienfuegos, and a brief stop to explore the city, we'll follow a superbly scenic route as we climb into the Sierra Escambray mountains and continue along the Caribbean coast to the UNESCO World Heritage City of Trinidad.

Trinidad is Cuba's most authentic and perfectly preserved colonial city.

This evening and enjoy strolling the cobbled colonial streets, plus music and dance at one of Trinidad's many clubs.
Meals: Breakfast & Dinner
Overnight: Casas particulares (B&Bs), Trinidad
Day 4, Stage 3: Topes de Collantes / El Nicho / Santa Clara / Remedios
We'll take a switchback to Topes de Collantes, high in the Sierra Escambray mountains, then (riding skills permitting) follow a steep dirt track down to El Nicho waterfall for lunch.
Then head via Manicaragua to

Santa Clara, stopping to visit the Conjunto Escultórico Comandante Ernesto Che Guevara.


The vast monument, mausoleum, and museum dominating Plaza de la Revolución–and other key sites associated with the final battle, in December 1958, that eventually toppled the brutal Batista regime.

Then continue the

short distance to Remedios, a beautifully preserved UNESCO World Heritage Site colonial city.
Meals: Breakfast & Dinner. Dinner will be a roast suckling pig feast.
Overnight: Hostal La Estancia & Casona Cueto, or similar (B&B), Remedios
Day 5, Stage 4: Sagua la Grande / Varadero OR Matanzas

Follow the Circuito Norte (North Coast Road) through the Vuelto Arriba tobacco country and beautiful coastal mountain landscapes of Villa Clara.
Lunch beside the sea in the fishing village of Isabela de Sagua.

Then continue to Varadero, Cuba's premier beach resort where a sugar-white beach, and scores of hotels, spill along the full 8-mile length of the Hicacos Peninsula.

Tonight, enjoy dinner at Salsa Suárez paladar, and take in the varied nightlife of Varadero or in Matanzas (Matanzas, closer to Havana, makes tomorrow's long ride far more feasible.
Meals: Breakfast, Dinner

Overnight: Casas particulares, Varadero or Matanzas
Day 6: Stage 5 Matanzas / Havana / Viñales
Head west to skirt Havana to visit Museo Ernest Hemingway (Hemingway's former home)
Then onto Las Terrazas, an eco-resort in the Sierra de Órganos mountains.

Lunch here before continuing west to Viñales, a charming village in the heart of tobacco country and Cuba's most scenic valley.
Meals: Breakfast & Dinner. Dinner at Finca Agroecologico El Paraiso.

Overnight: Casas particulares, Viñales
Day 7, Stage 6: San Luis y Martínez / Viñales

Full-day excursion offers a sinuous ride into the tobacco growing region of Vuelto Abajo.
Visit and then

lunch at a famous private tobacco farm.

Then a scenic return through the mountains via Isabel Rubio and

Pons to Viñales.
Meals: Breakfast & Dinner
Overnight: Casas particulares, Viñales
Day 8, Stage 7 Viñales / Havana
Follow the Circuito Norte coast road, the route through the mountains, back to Havana.
After returning of the

motorbikes,

Transfer to your B&B in Habana Vieja.

Tonight enjoy a final dinner close by at 5 Sentidos, one of

Havana's finest private restaurants.
Meals: Breakfast & Dinner
Overnight: Posada de Chacón or similar, Habana Vieja
Day 9: End of trip
Today transfer to the airport for your departure flight.
Or, if you wish, you can stay some more days in Cuba.