Exit Tours Motorcycle Club – Ride Overview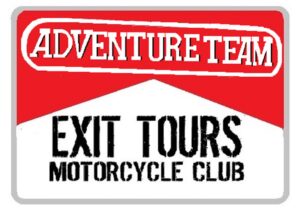 This is a Club Ride Overview.
Exit Tours MC puts on Dual Sport, Singletrack and Adventure motorcycle rides in the Rocky Mountains and the West.
These rides are non-competitive, recreational Dirt Bike rides for competent riders.
Our rides vary in elevation, mileage, weather and types of trails/roads and often cover long distances by Ride with GPS Phone compatible GPS Tracks.
We work to minimize pavement mileage:
We maximize scenery and fun, and generally only use paved roads as necessary to tie dirt loops together and access amenities. Our rides cover routes you cannot put together on a map.
If you could put the routes on a map, you couldn't follow the map, as trail markings in the Rocky Mountains and the West are, even in designated riding areas, often missing, non-existent, outdated, misplaced or confusing.
We use a "High Adventure, No Hassle" approach:
Where you can share the experience with like-minded enthusiasts' and experience what the Rocky Mountains and the West have to offer.
We do not tell you which route to ride, as we usually give you multiple choices.
Since you are using GPS Tracks, there is no official start time. You leave when you wish.
There is no qualifying or probation period to become an Exit Tours Motorcycle Club member and there are no required meetings or work days associated with your membership — Just join and ride!
Each Exit Tours Motorcycle Club adventure has a meet-up point where we discuss the day's rides.
Riders start the ride whenever they want and ride at their own pace with whoever they want, although we discourage riding in large groups.
We provide an area map of each route and often include options for shorter routes, bypasses that avoid difficult sections, and/or bailout routes to the finish.
Exit Tours M/C rides start on private property:
Rides either end where they started or end at a lodge or fairgrounds where overnight camping or rooms may be available for the group.
We also may provide group meals at our destinations or on private property along the trail.
On some of the multi-day rides we may provide a support vehicle to transport riders' gear to overnight destinations all as part of the shared group expense.
Navigation:
Exit Tours Motorcycle Club rides are self-guided – we do not provide guides.
Every Club member is emailed a map and a GPS track of the route(s).
The maps provide an overview of each day's route so that riders have a general sense of where they are and where they're going, but are not detailed-enough for navigation.

Motorcycles we recommend for each of our Club ride disciplines:
Singletrack Trailrides: 500cc or less street-legal dirt bike with a Hydrid rear tire and a knobby front for maximum fun.
You could be riding challenging singletrack trails, and a larger or factory dual- sport type street motorcycle won't be suitable.
Dual Sport Adventures: 250-650cc Dual Sport or a street-legal dirt bike for those up to the challenge of the long loops.
Skilled riders may be able to complete the long loops on a well-equipped 600-700cc dual-sport, such as a KTM 690 or 701 Husqvarna, DR 650.
For short loops a larger-displacement (600+ cc) dual-sport should be manageable for everyone, including novice riders or two-up.
Larger-displacement (800+ cc) adventure bikes should be avoided on most Dual Sport Routes.
Your bike will need DOT knobbies for our Dual Sport Loops.
Adventure Rides: A large-displacement (650+ cc) Adventure motorcycle, such as a Yamaha T7, Super Tenere, BMW GS, KTM Adventure, Triumph Tiger, ADV Harley equipped with adventure or dual-sport tires.
The ability to carry all your gear will not be necessary as we will portage a reasonable amount of gear to and from destinations for you.
Eating up the necessary highway miles on the Adventure rides would likely to be not enjoyable on a smaller displacement dual-sport motorcycle.
More Club Ride OVERVIEW INFO:
Regardless of the ride type, gas stops are usually scheduled not much more than 80 miles apart…this means that your motorcycle MUST be capable of going at least 80-miles, before needing a fill-up.
If your bike doesn't have the necessary range you will need to carry extra gas with you – our gas stops are usually scheduled at gas stations along the route.
On all rides, have your motorcycle geared for at least 70 mph so that you can keep up with traffic on highway sections.
NAVIGATION and SAFETY INFORMATION LINK

You will ride through remote, rugged locations that are often inaccessible by truck.
You will need to carry your own tube or plug kit, tool kit, air, lighter, first aid, water, snacks, tow strap, etc. and know how to use them, including knowing how to repair or change a flat tire.
Carry a cell phone and we highly recommend the use of a satellite-operated tracking and rescue device such as a SPOT – you will often be out of cell phone range.
We also recommend you obtain appropriate healthcare insurance before participating in any of our club rides.
Hazards DO exist on our routes:
Such as downed trees, washouts, rocks, etc and will NOT be marked in any fashion.
All routes are publicly-accessible so you may also encounter other riders and traffic.
Uphill traffic has the Right-of-way
Riders need to use caution and common sense at all times and stay to the right when possible, particularly around blind turns.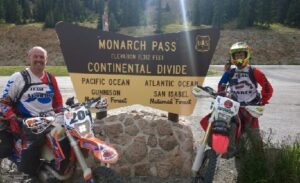 We discourage you from riding alone and insist everyone to use the Buddy System and pair up with at least one other rider so that you can look after each other.
Your ride will be enhanced if you ride with others who are of the same skill level, are riding similar motorcycles, and have compatible desires for the ride (speed of travel, how often to stop for a rest and pictures, etc).
We won't have any checkpoints throughout the day or sweep riders to keep track of you.
Miscellaneous Info for this Club Ride Overview:
We may provide "outriders" to help you if you need a shortcut to the finish or have questions along the way, but they should NOT be considered "sweep" riders: they are not medics, will not be available to fix bikes or change flats, will not have extra parts for you, or be there to hold your hand.
If you get stranded we will of course do what we can to bail you out, however if we need to arrange evacuation, medical aid, or any other form of rescue assistance for you there may be a reasonable charge associated with that assistance.
There is no qualifying or probation period to become a Exit Tours M/C member and there are no required meetings, work days or politics associated with your membership — just join and ride
Ride Cost Guidelines:
Our Rides and adventures generally have amenities available:
Such as meals, parking-staging-meeting arrangements on private property, camping or lodging, T-shirts, Chase truck and gear transport.
The cost for these amenities is paid by Exit Tours M/C for the whole group, the expenses are averaged out per rider based on projected attendance, and payable when you sign-up and join the club for a ride.
Selecting these amenities is not optional, though their cost should not be considered payment for the ride.
On multi-day rides we may place a hold on rooms and each rider may be responsible to make reservations and pay for their own room, or it may be included in the shared group cost.
This allows us to conduct these rides without the turmoil of a permit:
As long as we limit the rides to less than 75 riders, and conduct these rides on a self-guided, shared group expense, non-commercial basis.
Trailrides and Adventure rides are generally Limited to 25 riders, so you will not get lost in the crowd.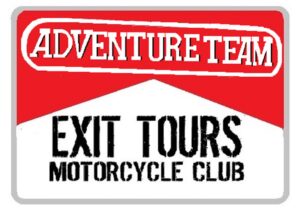 Club Ride Overview of Weather Cancellations and Shared Group Expense Refunds:
Our rides are all-weather. Rides will not be cancelled, regardless of weather conditions, and refunds will not be given for shared group expense amenities nor will they be transferred to another ride or rider.
If Exit Tours M/C cancels a ride we will make all attempts to provide an equivalent ride on an alternate date.
If we cancel a ride, then your prepaid shared group expense payment may be transferred to the new ride date, or if you cannot attend the new date, a 100% refund for your membership will apply.
If no such ride is offered then your membership payments will be refunded. Or you could carry your membership over to the next year.
Exit Tours Motorcycle Club rides are non-competitive and self-guided:
Exit Tours MC rides are for competent, licensed, insured riders with street legal, quiet motorcycles with a USFS approved spark arrestor, but we do not inspect any motorcycles.
Our rides comply with USFS land use requirements, though there is no guarantee that it is permissible or legal to ride everywhere on our routes.
Most USFS and BLM Motor Vehicle Use Maps are outdated, inaccurate, ambiguous, and difficult to read even for the rangers, but especially for the general public.
Even in designated riding areas:
USFS and BLM route signs are often missing, non-existent, outdated, misplaced and confusing.
In many areas private property boundaries are not well defined or even posted.
It is possible that anyone following an Exit Tours Motorcycle Club route could get behind closed gates or ride somewhere they are not supposed to be and possibly get cited or yelled at.
Every Exit Tours M/C member is advised of this in advance of our rides:
And by participating, takes full and sole responsibility for their actions and well-being, without exception.
Exit Tours Motorcycle Club rides are not competitions, nor are prizes or trophies awarded.
All participants are on their own, riding at their own pace, at their own risk, and always have the option to follow the designated route or to follow another route of their choosing.
Exit Tours M/C rides are non-competitive, non-commercial, recreational club rides for club members.
HOME PAGE: ADVTOURS.com
More information on Exit Tours MC Dirt Bike Motorcycle rides can be found on US Dual Sports.
In Arizona, California, Colorado, New Mexico and Nevada