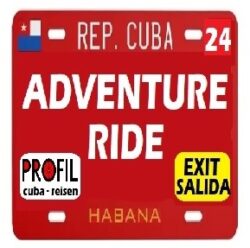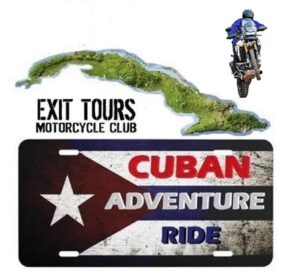 Three Cuban Adventure Rides in 2024
"Simply stated, Cuba is one of the most fascinating, complex, misunderstood, culturally vibrant, and exciting countries on Earth. Almost every U.S. citizen who visits falls in love with the place, regardless of politics."
Christopher P. Baker, Moto Journalist & National Geographic acclaimed Cuban Expert
2024 Cuban Adventure Rides Dates


What is included on Cuban Adventure Rides for 2024
Two 9 Day All-Inclusive Western Cuba Adventures
February 8-16, 2024
March 7-15, 2024
$ 4,400 Double Occupancy
$ 1,495 Pillion Passenger, Double Occupancy
$ 4,850 Single Occupancy
10 Day All-Inclusive Eastern Cuba Adventure
May 4-13 2024
$ 5,250.00 Double Occupancy
$ 2,295.00 Pillion Passenger, Double Occupancy
$ 5,650.00 Single Occupancy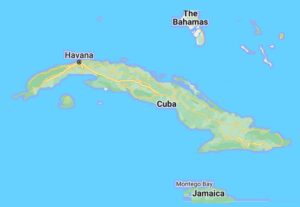 Cuba is the largest island in the Caribbean and is definitely one of Latin America's hidden gems.
Cuba is known for its crystal-clear beaches, delicious cocktails like the mojito, and the unpolished beauty of Old Havana.
Cuba is also famous for its music, for the revolution that turned it upside down in 1959, and for its Cigars of unrivaled quality.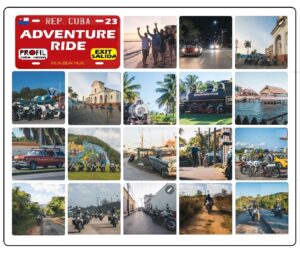 No other U.S. tour company or Motorcycle Club is currently offering group motorcycle tours of Cuba, and shipping a bike there is illegal under U.S. embargo regulations.
After a successful tour in Jan '23, for 2024 Exit Tours MC will offer riders another unique opportunity to join 3 U.S.-legal (and thrilling) 9-day or 10-day 'Cuban Adventure Rides' by BMW F700GSs, in Western or Eastern Cuba.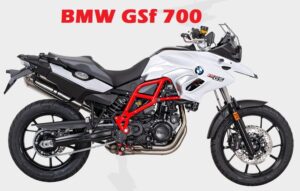 Exit Tours MC has teamed up with the German Tour Operator Profil for 3 outstanding all-inclusive rides in 2024.
All-inclusive in this case covers everything but lunch, alcohol, tips and your airfare.
Whichever Tour you choose, west or east, you will be in good hands.

The Western loops will accommodate 10 riders each, while the Eastern tour is limited to 9 Adventurers.
See the

RED

Links and tabs below for more particulars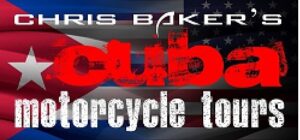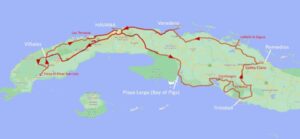 LINK to MORE INFO on two 9 Day Cuban Adventures in Western Cuba in the northern winter of 2024: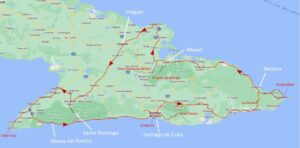 LINK to MORE INFO on the 10 Day Cuban Adventure in Eastern Cuba in May of 2024: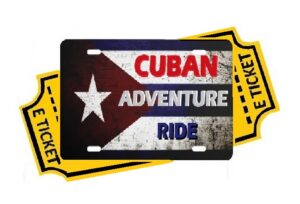 Your days will be full of riding and fun meetings with Cubans from all walks of life…
Such as Artists
Tobacco Farmers
Owners of Eisenhower-era classic car taxis
Restaurateurs
BnB owners
Cuba's resourceful and indefatigable owners of pre-Cuban revolutionary Harley-Davidson's
Other motorcycle enthusiasts.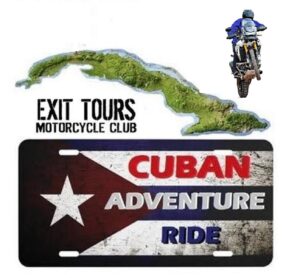 These Cubans Adventure Rides are Open to experienced riders only!
Cuba is the safest country in Latin America, and safer than most large US City's.
These tours will offer you the opportunity to ride on the island where few people will ever have the opportunity to Venture.
Most Cubans nor anyone else will ever see the wide swath of Cuba you'll see on these 9 or 10 Adventure motorcycle rides.
The U.S. "Support for the Cuban people" license allows individuals to travel freely to Cuba as they wish.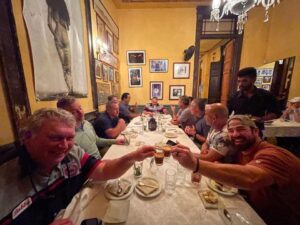 For the 2 Western Adventure rides, we'll meet the 1st evening at your B&B in Havana in Habana Vieja (Old Havana) for a welcome reception.
After cleaning up, we'll go for a ride in convertible classic cars around Havana to our arrival dinner at La Guarida, Cuba's most sensational private restaurant.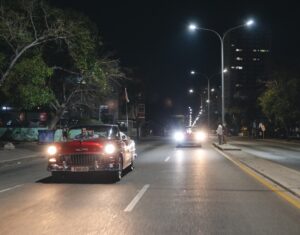 For the eastern adventure we'll meet the first evening at our private B&B in Holguín, in eastern Cuba (American Airlines flies twice-weekly to Holguín from Miami).
You'll get a first impression of Cuba while enjoying your welcome drink in your private pension.
Dinner will be at one of the many private restaurants in Holguín and is included with the Adventure.
The Eastern Adventure does not visit Havana.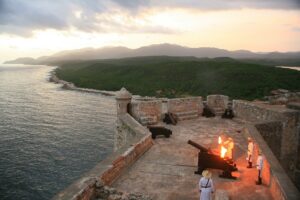 The two 9 Day Western Cuban Adventures will be led by Luis Enrique González, who has more experience guiding group motorcycle tours in Cuba than any other Cuban motorcycle enthusiast and road guide.
Between 2013-16 Luis worked alongside Moto Journalist Chris Baker to lead the very first motorcycle tours in Cuba for U.S. citizens.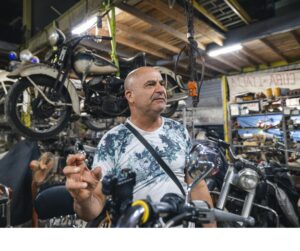 Since 2017, Luis has acted as lead guide for Profil Cuba-Reisen and has led scores of tours throughout Cuba.
An English-speaker, he's a natural raconteur and all-around "colorful character" with a Rolodex of contacts throughout Cuba.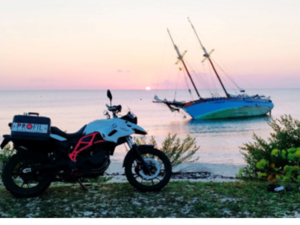 For the 10 Day Eastern Cuba Adventure, your guide along with Luis will be Christopher P. Baker.
National Geographic has acclaimed Chris as "one of the world's leading authorities on Cuba travel and culture."
It's true to say… no-one knows Cuba as well as Christopher.
Chris is the Lowell Thomas Award 2008 'Travel Journalist of the Year' and the author of seven travel books about Cuba.
In 1996, Mr. Baker shipped his BMW R1000 GS to Cuba and made a three-month, 7,000-mile journey as a licensed journalist, resulting in publication of his Moon Cuba guidebook and his award-winning travelogue Mi Moto Fidel: Motorcycling Through Castro's Cuba.

Christopher had the pleasure of leading the first licensed U.S. motorcycle group tour of Cuba end-to-end since the 1959 Revolution in 2013.
More on Moto Journalist Chris Baker: advtours.com/moto-journalist-chris-baker/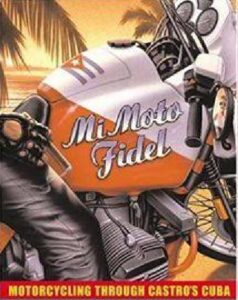 Whichever Tour you choose, west or east, you will be in good hands.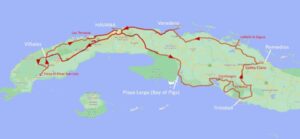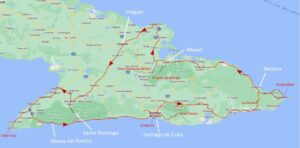 You may arrive a day or two early or stay a day or stay some days later if you desire.
Take in some Sportfishing in the Caribbean or visit the Museo Hemingway in Havana.
Let us know your desires and we can make the arrangements.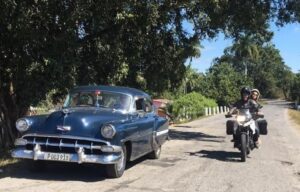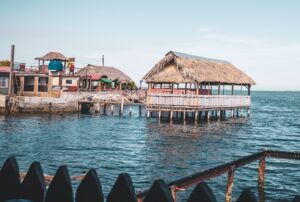 16 THINGS CUBA IS KNOWN AND FAMOUS For LINK:
1. Havana
2. The Revolution
3. Breathtaking nature
4. Pristine beaches: 2,321 miles of coastline
5. Cocktails
6. Cigars
7. Vintage cars
8. Dance music
9. A troubled relationship with the U.S.
10. Rum
11. Fascinating people
12. Mouthwatering cuisine
13. Great public health
14. Amazing coffee
15. Historic towns
16. Sports culture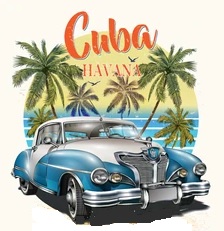 16 Things Cuba is Known and Famous For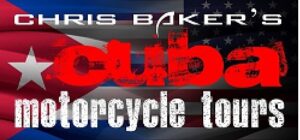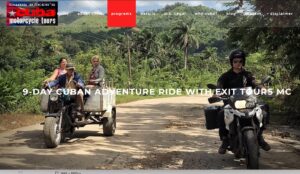 LINK to MORE INFO on two 9 Day Cuban Adventures in Western Cuba in early 2024:
https://cubamotorcycletours.com/9-day-cuban-adventure-ride-with-exit-tours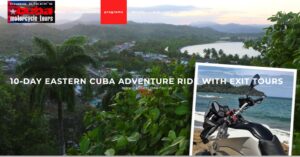 LINK to MORE INFO on a 10 Day Cuban Adventure in Eastern Cuba in May of 2024:
https://cubamotorcycletours.com/10-day-eastern-cuba-adventure-ride-with-exit-tours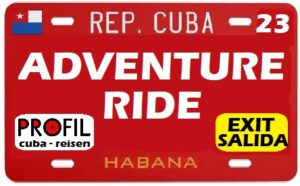 Google Share File Photos Cuba Jan '23 LINK:
EACH OF THESE RED TABS IS LINKED: