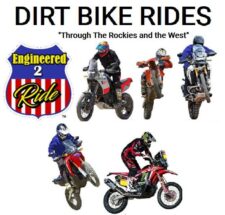 MORE INFO
Dual Sport, Singletrack and Adventure rides in the Rocky Mountains and the West.

Exit Tours MC has engineered various rides that criss-cross the Continental Divide and the West.
Rides in the Heart of the Rocky Mountains
Along the San Andreas fault
In the mountains of Central Arizona
On the old Spanish Border in Southern Colorado and Northern New Mexico
A loop that circumnavigates Las Vegas in November.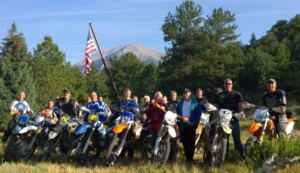 Most of these rides should

be bucket list trips.

For a few days you'll experience the best trails and the most stunning landscapes our country has to offer.

You'll be challenged by the terrain and amazed by the scenery.
Most loops are not passable in the winter, and even in the summer storms can render many passes difficult.


With all the widespread OHV closures, knowing where to go and how to get the best out of your riding day is now more valuable than ever before.
If you want good challenges, the best balance of roads, 2 track, trails, and incredible scenery, and a fun time, with no work putting it all together, this is it.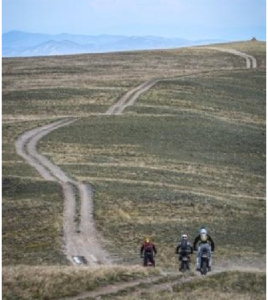 These are all are club rides.
That means the ride participation is limited so you will not get lost in the crowd.
We do not encourage riding in large groups and insist everyone use the Buddy system.

You do not need an Invitation.

You should be a competent rider to take part.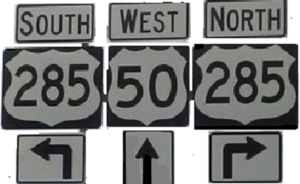 Ride Dual Sport, Singletrack and/ or Adventure loops.

Bring 2 bikes if you wish?

Over 4,000 miles of loops on the various rides.

All loops cloverleaf or return to where they started.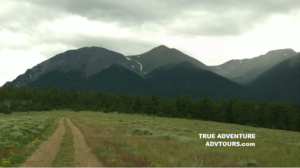 Ride your choice of routes at many rides.

Most of these rides do not not limit you to a one size fits all loops.

Ride loops with your own group or combine with another group for even more camaraderie.

Spend a few days riding some of the best stuff in the West.
Exit Tours MC's "High Adventure, No Hassle" approach includes plenty of riding.
Little used mountain two-track, singletrack, dirt & gravel roads.
Routes are mapped by our local experts and includes the camaraderie of like-minded enthusiasts.
Ride routes to iconic destinations you wouldn't put together on your own.

Ride what you want, when you want, with who you want.

New friends or old.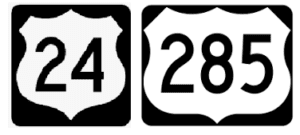 Navigate by Phone Compatible Ride with GPS Tracks.

'C' Dual Sport loops are suitable for Adventure Motorcycles.

Adventure loops are suitable for a 'C' rider.

'B' Singletrack is doable on a factory Dual Sport model.

'A' Dual Sport loops will challenge you.

Bring a plated dirt bike or an off-road focused Dual Sport and ride the 'A' loops.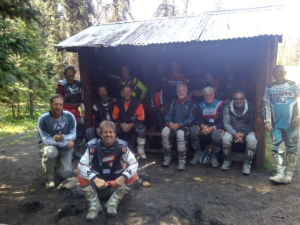 Any Competent rider is welcome to join us.

By competent we having the skills and attitude to ride sometimes challenging terrain.

Your motorcycle should be street legal, plated and insured.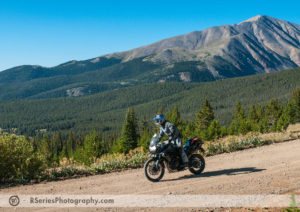 Rides start and finish on private property

No Guides

No trail marking

Entry is limited, so you will not get lost in the crowd

Join the Club and your first ride is included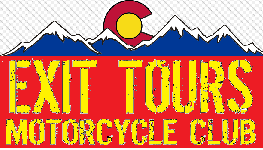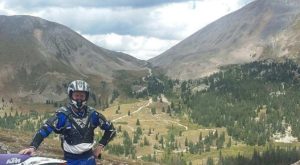 You won't find games, talks, or seminars on our Club Rides.
You will find Enduro based rides that take just about all day to complete on most Dual Sport loops.
Singletrack loops are real Rocky Mountain Singletrack tied together with dirt and paved roads.
Hence the need for a plate.
The Adventure loops will offer you a few challenges and scenic landscapes.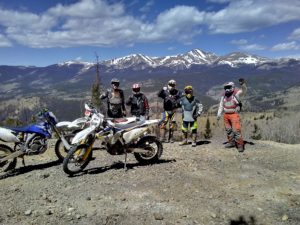 IMPORTANT INFORMATION:
Exit Tours Motorcycle Club rides are not competitions, nor are prizes or trophies awarded.
All participants are on their own, riding at their own pace, at their own risk, and always have the option to follow the designated route or to follow another route of their choosing.
Exit Tours M/C rides are non-competitive, non-commercial, paying for the amenities with the ride and not for the ride itself.
These are recreational club rides for club members only.
The rides starts and finish on private property.
Amenities are provided, such as meals, t-shirts, fuel portage, parking-meeting arrangements and camping.
In many areas private property boundaries are not well defined or even posted.
It is possible that anyone following an Exit Tours Motorcycle Club route could get behind closed gates or ride somewhere they are not supposed to be and possibly get cited or yelled at.
Every Exit Tours M/C member is advised of this in advance of our rides, and by participating takes full and sole responsibility for their actions and well-being, without exception.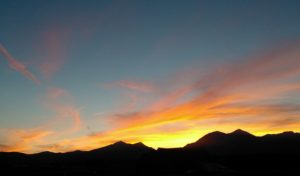 We recommend leaving early and keeping stops to a minimum.
You leave when you wish, ride at your own pace and we do not ride in large groups.
We also highly recommend you come with a friend and be responsible for each other throughout the day.
If you have to ask if you can ride your motorcycle over some mountain 4×4 pass's and survive…
You probably don't have the knowledge or skills to do it.
People who can do it safely already have informed themselves based on past experience and are confident enough in their skills and machinery that they don't have to ask.
If you have to ask, don't do it, even if you have ridden all of the toughest trails in Iowa…