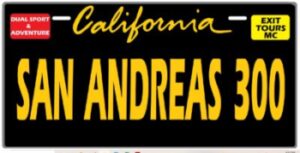 SAN ANDREAS 300 – ADVENTURE RIDE INFO

CLUB DUAL SPORT & ADVENTURE RIDE
FRIDAY- MONDAY
APRIL 28- MAY 1 2023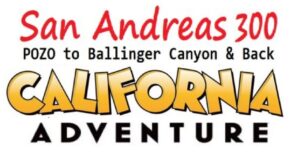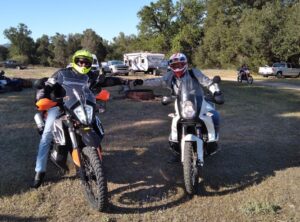 The San Andreas 300 Adventure ride is a 3 Day Adventure motorcycle Club Ride open to any competent rider.

No meetings, workdays, politics or games. The Club won't hold your hand…Just Join and ride.
Ride, hang-out and camp with Like-Minded Enthusiasts.
The club insists everyone use the

Buddy System

Membership includes Gear Portage, 6 meals, Phone compatible Ride with GPS Tracks.
Camp or stay or stay in your RV on Friday & Sunday on Private Property in Pozo.
Open Bar in Ballinger, Lodging or Camping in Ballinger on Saturday.
Start the 3 day ride from the site of the old Hi Mtn. Enduro @ Pozo, and ride to the site of the Leapin' Lizard Enduro in Ballinger Canyon.
Pozo is east of San Luis Obispo.

Ballinger Canyon is Northeast of Santa Barbara.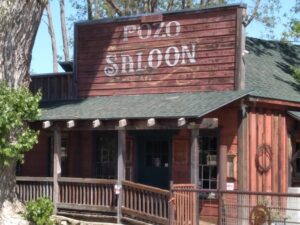 Ride back to Pozo on Sunday.
Ride to 3 iconic beaches on the Central Coast on Monday.

Pismo Beach, Avila Beach and Morro Bay.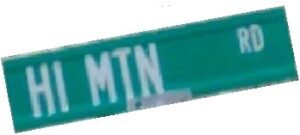 Adventure Loop Description
Ride from Pozo to Ballinger on Saturday.
Over the Mountains from Pozo, to past Soda Dry Lake
Through the Carrizo Plains not the standard way.
Ride off-road on dirt roads and 2 track to Maricopa for fuel and then towards the Pine Mountain club.

Ride in the Mountains of the coast range behind Ojai to Ballinger Canyon.

Ride a loop back to Pozo on Sunday a different way to the Carrizo Plains and over Pozo Summit .
On Monday ride an ADV loop to iconic beaches on the Central Coast of California if you choose to stay Sunday Night.
Ride from Pozo to Pismo Beach, Lunch in Avila Beach and over Perfumo Canyon to Morro Bay.
This is a 3 Day ride with gear and fuel portage, meals and camping or lodging available in Ballinger Canyon.
Return to the staging area in Pozo Sunday night, and ride to the beach on Monday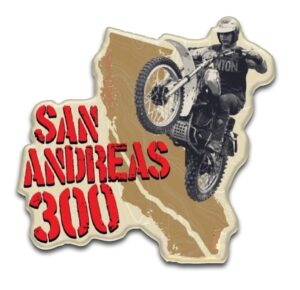 Through the San Andreas Fault Zone.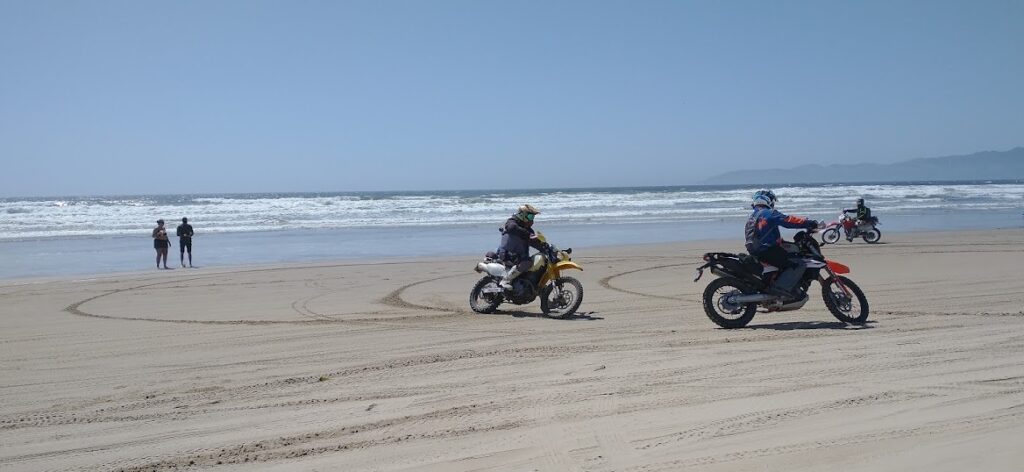 Ride on Pismo Beach on Monday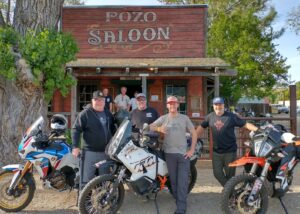 MORE INFO on this LINK: https://calidualsport.com/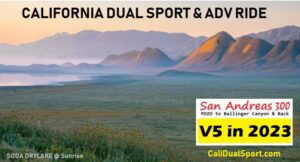 SIGN-UP INFO LINK: