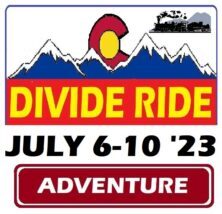 Basic Description of the Divide Adventure Ride in July.
11+ Passes.

The only real pavement sections are getting out and back to the Airport in Colorado Springs, Independence and Cottonwood Passes.

4 Days, 3 nights and 750 miles of Adventure bike friendly terrain you could drive your wife's Subaru over it.

The ride starts from the secure Colorado Springs Airport and returns 4 days later.

This is not a Guided ride. You follow Phone Compatible Ride with GPS Tracks.

Ride with who you want to. New Buddies or old.

Leave when you wish, though typically the Club likes to see everyone on the trail by 9 AM.

The Ride includes Gear Portage so you may ride unencumbered.
The ride starts in Colorado Springs and uses almost every old Railroad right-of-way in the Heart of the Rocky Mountains.
Example of old Railroads the Divide Rides uses: Colorado Springs & Cripple Creek & Victor – Florence & Cripple Creek – Denver & Rio Grande Western – Colorado Midland – Denver, South Park & Pacific.
All of these old Railroad lines are now dirt roads.
They are all a steady grade, most include turn of century tunnels, and all are a hoot to ride.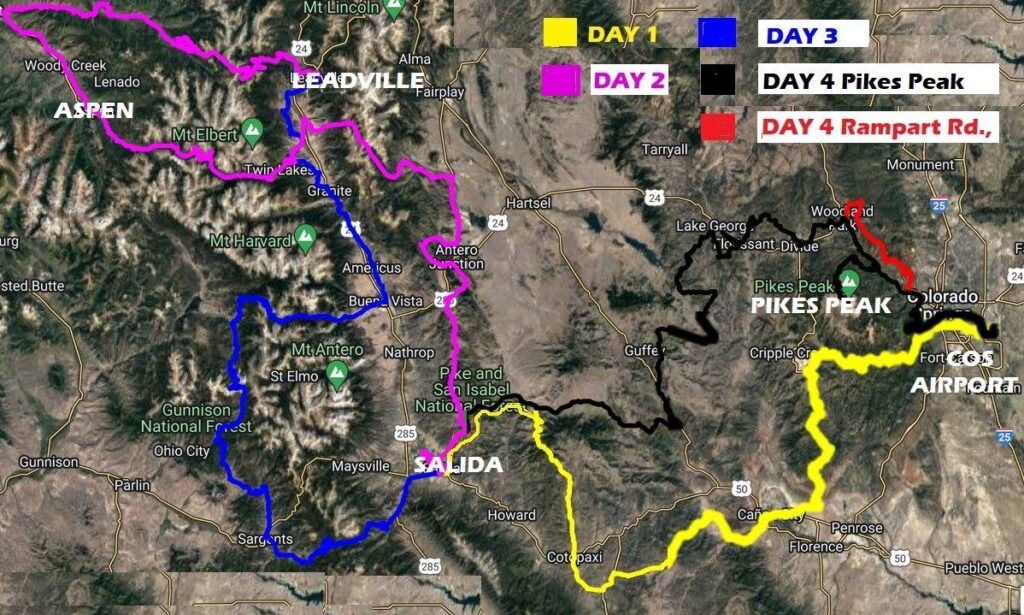 Four Day, 750 mile Adventure Motorcycle ride on the Continental Divide.
We are not out to torture anyone
This is just a Fun Adventure Ride with as much off-road as possible

The Ride on the Divide is a low-key, high adventure, no hassle Club ride in the Heart of the Rocky Mountains
From and to the Colorado Springs Airport. July 6-10 2023
Ride over 11+ Mountain Passes in the Heart of the Rockies
The Ride is from July 7-10 – Friday to Monday.
Includes proven phone compatible GPS Tracks
Gear Portage
2 nights camping
Some meals and a Chase Truck.
1 Night Lodging in Leadville is on you.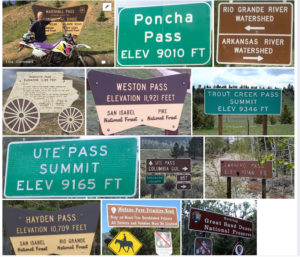 Ride over 11+ Mountain Passes you've probably heard about:
Victor Pass*
Trout Creek Pass
Weston Pass
Independence Pass*
Hagerman Pass
Mosquito Pass**
Weston Pass*
Cottonwood Pass*
Cumberland Pass
Waunita Pass
Blacksage Pass
Old Monarch Pass
Monarch Pass*
Marshall Pass
Ute Pass*
Pikes Peak (Not a Pass)*
*Paved ** Alternate Challenge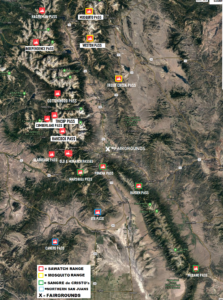 The concept for the ADV Ride on the Divide is to make it easy for you do enjoy riding over 11+ fun mountain passes for 4 days in the Heart of the Rockies.
The Club will portage your gear.

So you may ride unencumbered

Supplies a chase truck and trailer.

Buy a few meals. Breakfast Saturday and Monday on the Arkansas river, Dinner Saturday in Leadville.

Supplies over 750 miles of phone compatible proven GPS Tracks.

Campsites are included with Club membership for the ADV Ride on the Divide.

Lodging is on you in Leadville and Colorado Springs.
The ride will start and finish from secure parking at the Colorado Springs Airport Long-term parking lot.
A discount for lodging at the COS Airport Radisson Hotel is available.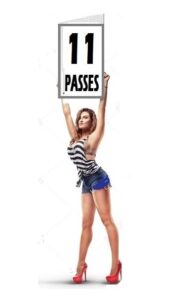 DIVIDE ADV ROUTE EXPLAINED
Ride over 11 Mountain Passes in 4 days.
8 unpaved passes.

This is a a creative unpublished route from and to Colorado Springs
Day 1 around the east and south side of Pikes Peak over dirt Goldcamp road to Victor Pass.
Then through the old Gold mining town of Victor,and over to Cripple Creek to down dirt Phantom Canyon to the Arkansas River.

From Canon City over dirt roads to the old Railroad stop that was in Cotopaxi for lunch and fuel.

Then through the high mountain plains on dirt roads to Salida on Friday to end day 1.

Where we can spend the night at a private campsite on the Arkansas river. With a Bar & Grill.

Or you could stay at the Poncha Springs Lodge.
Day 2 the ride starts off with an off-road section below 14k foot Mt. Shavano.
Then we ride along the Arkansas River to Smeltertown and it's historic Smokestack.

From the historic site, we'll ride past old mines to the Aspen Ridge dirt Jeep Road on top of the Mosquito Range to the dirt sections on Trout Creek Pass.

Ride up an old RR right-of-way to the top of Trout Creek Pass.

Before heading up and over Weston Pass, which was known as the road to riches when it was a stagecoach line to Leadville. Before the Railroads.
From Weston Pass, ride up to and past the Twin Lakes.

Then up and over paved 12k foot Independence Pass to Aspen and the Colorado River watershed, for lunch.

From Aspen we'll take a creative route down the Roaring Fork Valley.

To up along the Roaring Fork River to the Hagerman Pass Jeep road.
We'll follow more old Railroad Right-of-ways, to the loop around Turquoise Lake with some off-road to Leadville.

In Leadville we will stay at the Historic Delaware Hotel.

And the club will buy Dinner at the local Steak House, Quincey's.
On Day 3, Sunday you have 2 options.
A Hero Loop over 13k foot Mosquito Pass.

Or you can ride off-road on some little used 2 track and then down some old Railroad lines along the Arkansas river to Buena Vista.

If you choose to ride the Hero loop over Mosquito Pass, you would come over Weston Pass again and tie-in on the old RR route along the River to Buena Vista.
From Buena Vista, ride over Paved Cottonwood Pass to an off-road section to near the old mining town of Tincup.

From the town of Tincup ride over dirt Cumberland Pass to a lunch and fuel stop.

In the old Denver, South Park & Pacific Railroad town of Pitkin.

Then head over dirt Waunita and Blacksage Passes to dirt the Old Monarch Pass road.

Down paved Monarch Pass to the Denver & Rio Grande Railroad town of Sargents.
From Sargents we'll head up and over the Divide on the first Railroad line in these parts over the Continental Divide.

Dirt Marshall Pass and Marshall Pass road back to our campsite from Day 1 on the Arkansas River.

Dinner & Breakfast again at te Drift in on the river.

You could again lodge in Poncha Springs if camping isn't your thing.
Day 4, After Breakfast on Monday on we will head out dirt Ute Pass towards the west side of Pikes Peak.
Ride through some beautiful high plains.

Ride off-road down to the South Platte River and the old 11 Mile Canyon Midland Railroad right-of-way.

From Lake George, head into some locals only dirt roads on our way to the town of Divide and Woodland Park.
From Woodland Park we'll take the long dirt Rampart Range road down to the Garden of the Gods park.

From GoG you have the option of riding up to the top of 14k foot Pikes Peak.

From Manitou Springs we'll take more old Railroad right-of-way to Cheyenne Canyon and head back to the airport.

4 days, 11+ Mountain Passes, 750 miles, approx 4 stop lights all weekend.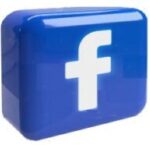 This Ride is a low-key, high adventure, no hassle Adventure Motorcycle club ride on the Continental Divide
The Ride is from July 7-10 – Friday to Monday.