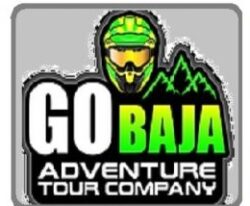 GO BAJA ADVENTURE 7 Day Ride to Cabo San Lucas

Go Baja Adventures Cabo San Lucas Tour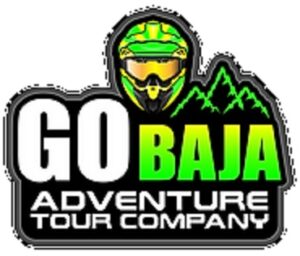 Experience 'The Real Baja' and all it has to offer.
March 23-29 2024 (Arrive March 22)
RIDE ENDS ON GOOD FRIDAY. Easter Weekend.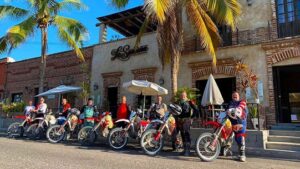 7 days riding. Fly into San Diego. Fly out of Cabo San Lucas.
Exit Tours MC has teamed up with Bruce 'Bruno' Anderson and Team Go Baja Adventure Tours.
For a 7 Day ride to Cabo San Lucas on their Honda CRF450 X's.
The concept for this ride is no Bike Prep on your part


No wear and tear on your motorcycle

No worry about transport of your bike and travel to the border

No worry Crossing the border

Save 3-6 days travel to the border and back home.
The Go Baja Adventures Cabo Tour begins in Northern Baja and we will ride all the way down and across the peninsula to the Southern Baja tip and finish in Cabo San Lucas.
This all-inclusive off-road tour takes you to see 300-year-old Missions, untouched beaches, cactus forests, and some of the most beautiful bays and mountains on earth.
The route loosely covers some of the traditional Baja 1000 racecourse, and then continues onto Cabo San Lucas, "The Lands' End".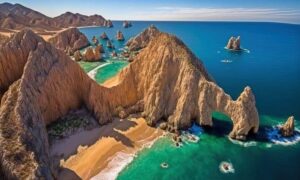 This Go Baja adventure is for our most enthusiastic off-road riders.
Limited to 15 Riders. 6 Minimum.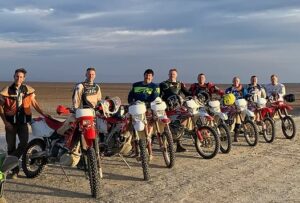 Ride a Professionally built, prepped Honda CRF450X
IMS oversized fuel tank

Rental handlebars

FMF exhaust

Baja Designs lighting kit

Handguards

Skid plate

All bikes are fully prepped and ready to roll. Show up and ride.
On the Go Baja Cabo Tour, you will experience a spectacular route down the entire Baja peninsula to Cabo San Lucas.
Dawn to dusk riding is the norm as we cover over 1,100 miles and experience sights that can only be reached by motorcycle.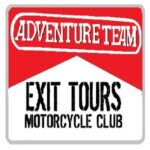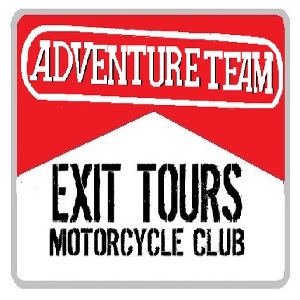 WHAT'S INCLUDED IN THE PACKAGE:
Ground Transportation- All ground transfers to and from the Holiday Inn-Old Town, San Diego, CA.

Including hotel baggage handling and gratuities.

Food- 'Feast Like Kings'. After running hard you are wanting good food, and lots of it!

All meals, including hearty breakfasts, trail-side lunches, dinner at some of the finest seafood/steak restaurants, trail snacks, bottled water, and sports drinks (alcohol not included).

Hotels- We stay at some wonderful hotels that Baja has to offer while your journey unfolds.

All rooms are double occupancy.​

Fully prepped/maintained Honda CRF 450X or side-by-side (UTVs are double occupancy ONLY).

Professional Guide with 25 years' experience
Full crew including:
Experienced guides

Qualified certified mechanics

Chase truck drivers.

All the logistics –

We have every detail covered in advance.

There is a lot going on behind the scenes to make your trip as enjoyable as possible from start to finish.

COST DOES NOT INCLUDE AIRFARE TO SAN DIEGO OR FROM CABO SAN LUCAS.
YOU PICK THE DATE YOU WISH TO FLY HOME from Cabo San Lucas

Price for this all Inclusive 7 Day Adventure is $6,400.
March 23-29 2024 (Arrive March 22)
LINK TO GO BAJA: https://www.gobajariding.com/cabo-san-lucas-tours
FAQ: https://www.gobajariding.com/faq
About Go Baja Adventures: https://www.gobajariding.com/our-team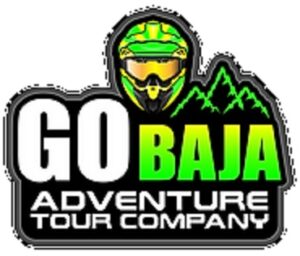 Contact
Contact Go Baja Adventures regarding questions or to request information.
6820 Airport Drive Unit D-206
Riverside, CA

Call Go Baja Adventures at:
(951) 687-0808
SIGN-UP Form: https://www.gobajariding.com/general-rider-sign-up-form