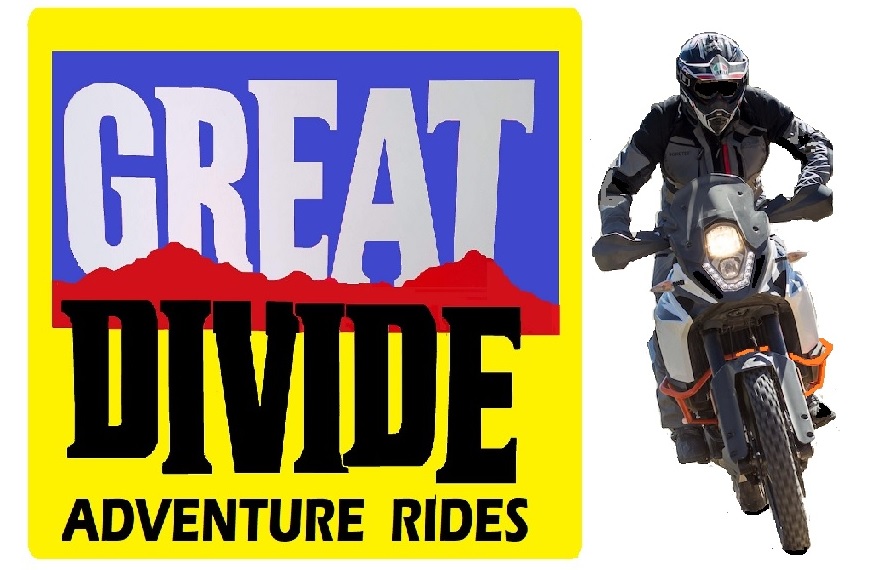 If you're an adventure-seeking motorcycle enthusiast looking for a unique and exhilarating experience, look no further than Exit Tours Motorcycle Club's Great Divide Adventure Rides. Below are some compelling reasons why you should join us for an incredible journey through the Heart of the Rocky Mountains:
Unparalleled Routes:
Unlike other tours that go around the mountains, our multi-day club rides take you right through the Heart of the Rocky Mountains. These proven routes offer breathtaking scenery and semi-challenging terrain that will test your riding skills and leave you with unforgettable memories.
Exclusive Group Size:
To ensure a personalized and intimate experience, our Adventure rides are limited to only 25 riders. This small group setting allows for camaraderie, interaction, and the opportunity to forge lasting friendships with like-minded enthisiasts who share your passion for adventure. And ensures you won't get lost in the crowd.

Discover Iconic Destinations:
Our carefully curated routes will take you to iconic destinations that you might not typically explore on your own. From hidden mountain lakes to picturesque valleys, you'll get to witness the true beauty of the Rocky Mountains while enjoying the thrill of off-road riding.
All-Inclusive Experience:
When you join Exit Tours MC for the Great Divide Rides, you can leave the logistics to us. Each ride includes a range of amenities such as phone-compatible GPS tracks, gear portage, a chase truck and trailer for any emergencies, campsites, breakfasts, and even a dinner. Also, you'll receive a commemorative ride T-shirt and pin to remember this incredible journey.
Flexibility and Freedom:
We understand that every rider has their own preferences. That's why we offer the option of camping or lodging for most nights, allowing you to choose the level of comfort that suits you best. With our Ride With GPS phone-compatible tracks, you can set your own pace, ride without a large crowd, and explore the trails at your leisure, without having to wait for a guide.
Safety First:
At Exit Tours MC, your safety is our utmost priority. We insist that everyone uses the Buddy System, ensuring that riders look out for each other throughout the journey. Our experienced local experts have mapped out dirt shortcuts along the GPS tracks, providing insider knowledge and guidance for a safe and enjoyable adventure.
Affordable Membership:
For a membership fee of $425, you can become a member of Exit Tours Motorcycle Club and join us on one of these thrilling rides. Once you've experienced the excitement and camaraderie of our club, subsequent rides are available at a discounted rate of $325. If you're up for the ultimate challenge, our COBDR ride in August, spanning seven days from the 4 Corners to Wyoming, is available for $700, including full support. Or check out a Cuban or Baja Adventure.

Embrace the Challenge:
We believe in embracing the true spirit of adventure, which is why we don't offer many alternate routes around semi-challenging sections. Our rides are designed to push your limits and help you grow as a rider. Embrace the challenge, conquer the obstacles, and emerge with a sense of accomplishment that only a true adventure ride can bring. You could drive your Mom's Subaru around our Adventure routes.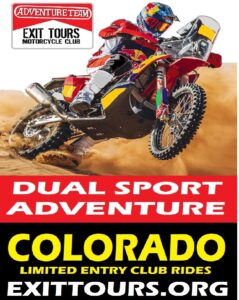 Join Exit Tours Motorcycle Club for your Great Divide Adventure Ride and get ready to embark on a thrilling journey through the Rocky Mountains. Discover hidden gems, forge new friendships, and create memories that will last a lifetime. Are you ready to take the leap?