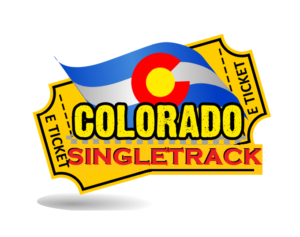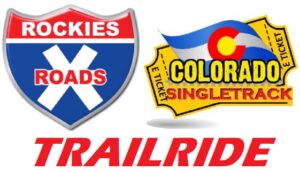 X-ROADS TRAILRIDE September 16-18 2022
X-ROADS TRAILRIDE 2 October 7-9 2022
Two epic trailrides on the same routes.
If you can't make one date, maybe you can make the other ?
X-Roads Trailride from Howard on Day 1 from the Arkansas River to the Rainbow trail.

Then ride the Continental Divide Trail to a remote Campground over the Divide.
Day 2 from the Campground back on the Continental Divide trail over the Divide to Howard, around Salida.

Day 3 over a Mountain Pass from the Arkansas river watershed to the Rio Grande watershed.

Then into an old mining area and back on the Silvercreek section of the Rainbow trail.
Singletrack and little used 2 Track trailride for 3 days in the Heart of the Rocky Mountains.
East to West – 95 Miles
40 miles of Rainbow singletrack trail to Hwy 285.
Cross Hwy to the Continental Divide Trail.
Up a challenging creek trail to Marshall pass at 10,800 feet
Ride at Treeline
70+ Miles of singletrack. Less than 10% pavement.
Camp at destination Friday night.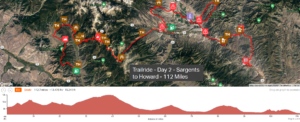 Day 2
Clockwise – 100 miles
From the campground to over 11k+ foot Old Monarch summit.
Ride at treeline on different trails than Day 1
Continental Divide Trail singletrack to singletrack down to Hwy 50.
To fuel in Poncha Springs.
Ride below Mt. Shavano to cross Hwy 285.
River Road to Smeltertown to Ute Mine trail.
To Spiral Mtn to railroad 2 Track to Cleora.
A few miles on Hwy 50 to Wellsville.
Powerline/ River loop to campground on the river. 40+ miles singletrack.
2 track, & dirt roads. 10% pavement.
Fuel & snacks available in town.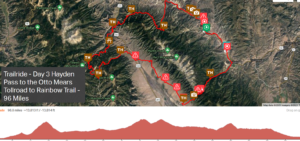 Day 3
Clockwise – 96 Miles
From the campground on the river.
Ride downstream.
To Hayden creek road. To over 10k+ foot Hayden pass.
Fenceline trail below Sangre De Cristo's to Alder creek.
Clover creek to Otto Mears Tollroad.
To Silvercreek / west Rainbow trailhead.
Rainbow singletrack to Hwy 285.
Cross 285 to east Rainbow singletrack.
To Bearcreek. To Wellsville. To River road.
To Campground.
30+ miles of singletrack.
Spectacular challenging 2 track.
Less than 5 miles of pavement.
This is a remote loop with no fuel or snacks available.

Sign Up X Roads Trailride
X-ROADS TRAILRIDE September 16-18 2022
X-ROADS TRAILRIDE 2 October 7-9 2022