EXIT TOURS MC 2022 ADVENTURE RIDES


2022 Adventure Rides will take place in:
Central Arizona

Central California

On the old Spanish Border

To the Alpine Tunnel on Fathers Day

On the Continental Divide

To the Great Sand Dunes

X-Roads ADV the Heart of the Rocky Mountains

7 Day ride on the COBDR
RED is LINKED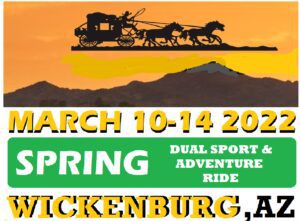 MARCH 10-14 2022
WICK DUAL SPORT & ADVENTURE

Club Dual Sport and Adventure loops in the mountains and desert of Central Arizona.
3 Day Ride in the Spring in Arizona

Multiple loop options



__________________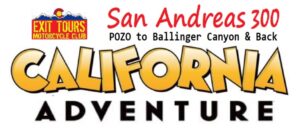 April 29 – May 2 2022
SAN ANDREAS 300
Club Dual Sport and Adventure ride along the San Andreas fault.
From the site of the old Hi-Mountain Enduro near Pozo.
To the site of the Leapin' Lizard Enduro in Ballinger Canyon…And Back.
All – inclusive ride with gear & Fuel portage.



_________________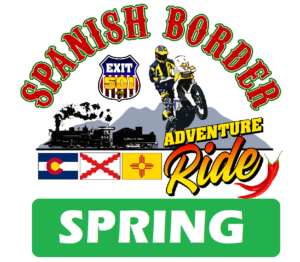 3 Day Ride on the Old Spanish Border from Chama , NM
SPRING SPANISH BORDER ADVENTURE
June 9-13 2022
ADV RIDE CHAMA, NEW MEXICO.
Three Day Point to Point Adventure ride.

Show up in Chama, New Mexico on Thursday June 9

Chama, New Mexico to Ojo Caliente, New Mexico to Taos, New Mexico.
Stage and stay in Chama , NM

Day 1 ride off-road to an active Narrow Gauge Train Depot.
Overnight at the Ojo Caliente Hot Springs.
Day 2 ride off-road above, along and in the Rio Grande Gorge.
Ride the High Road to and overnight in Taos, NM.
Day 3 ride up Red River Canyon and around the Questa Mine.
Ride 2 track off-road around an Old Volcano and to the oldest Town in Colorado.
Ride off-road in a little known area of Northern New Mexico and Southern Colorado.
Return

to Chama, New Mexico for a BBQ Sunday afternoon.



__________________

June 18-19 2022

ALPINE TUNNEL ON FATHER'S DAY
DUAL SPORT and ADV RIDE
No Cost for this ride – No Amenities
Loop to the Historic Alpine Tunnel on Father's Day.
2 Loops available. Dual Sport & ADV.
Camp near Greens Creek
Camp Saturday Night.



________________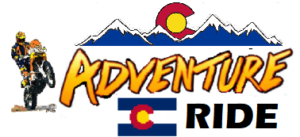 ADVENTURE RIDE ON THE DIVIDE
ADV RIDE FROM COLORADO SPRINGS, CO.

JULY 7-11 2022
4 Day, 750 mile Adventure ride over 11 Mountain Passes on the Continental Divide.

From and back to Colorado Springs

Ride up Pikes Peak on Day 4

.
Multiple Mountain Passes.
As much ADV suitable off-road as possible.
Spend the Night twice in Salida and once in Leadville.

Ride up Pikes Peak the last day.



2021 Divide Ride write-up on ADV Rider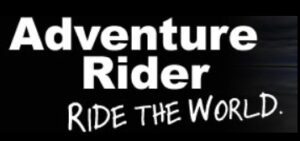 _________________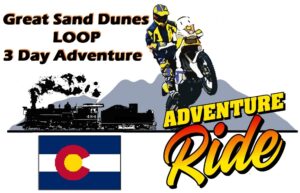 Great Sand Dunes Adventure Ride
JULY 22-24 2022
Adventure ride from Colorado Springs, around Pikes Peak to over Medano Pass to the Great Sand Dunes.
3 Day Adventure Ride. Overnight at the Sand Dunes Hot Springs and in Salida.
The Great Sand Dunes Loop is a spectacular 3 Day 400+ mile Adventure loop, that doesn't just take you down the Highway to get there.


Day 1 the loop visits old mining towns, railroad stops and takes little used dirt roads.
On an adventurous route from Colorado Springs to the Sand Dunes Hot Springs.
Day 2 ride to Salida on a creative route over 4 mountain passes, all in the dirt.
Day 3 ride in the dirt from Salida the back way into 11 Mile Canyon on the South Platte River.
Then ride down Rampart Range road from Woodland Park to the Garden of the Gods.
Gear Portage so you ride unencumbered
Chase truck
Dinner Sat. Night
Camping & soaking at the Sand Dunes Hot Springs included

_____________________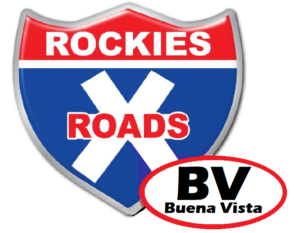 X-ROADS BV SINGLETRACK, DUAL SPORT
& ADVENTURE RIDE
AUGUST 11-15 2022
Dual Sport, Trailride & Adventure Loops from Buena Vista for 5 days.
Bring your Vintage and your modern Motorcycles. Loops for both.
ADV, Trailride and Singletrack Loops.
Thursday to Monday.
Camp and Stage on Stellar Private Property off of Trout Creek Pass near Buena Vista



__________________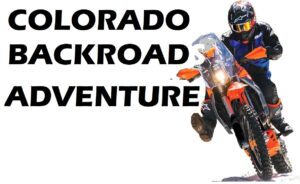 7 day Club supported ride on a COLORADO BACKROADS ADVENTURE over the last weekend in August 2022 from the 4 Corners to the Wyoming Border

August 25-Sept 1 2022

The ride starts on Friday August 26 and finishes on Thursday September 1st.
Have you ever wanted to ride the Colorado Backroads Discovery Route from Cortez, Colorado near the 4 Corners to the Wyoming Border? ?



The ride is from Friday AUGUST 26 TO THURSDAY SEPT 1 2022
The concept being to make it easier and economical for you to ride your own motorcycle on the COBDR.

Support on the route for 7 days

Rest day on Day 4

Camp or Lodge at Cottonwood Hot Springs on Day 3 & 4

Transport of your gear back to your truck at the start

Gear portage & Breakfast when camping

_______________________