X-ROADS ADVENTURE RIDES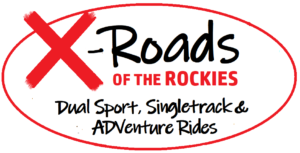 Adventure loops over the Continental Divide that could be once in a lifetime opportunity.
Ride loops to iconic destinations in the Rocky Mountains, in a remote scenic area of Colorado few people ever have the opportunity to visit.
Ride in the Headwaters and watersheds of 4 major American rivers:

The Colorado, Rio Grande, Arkansas and Platte Rivers

Ride to hot springs, past old

m

ines, through history and on old Railroad right of ways.

Ride over the Continental Divide

o

n multiple mountain passes.

Possible to end the ride each day soaking

in some of Colorado's finest hot springs, if that's your thing.



Camping included for 5 nights –

Thursday until Tuesday

Dinner Friday -Sunday included

Breakfast Saturday & Sunday included

Leave your gear at the Fairgrounds

so you can ride unencumbered WITHOUT saddle bags

Limited entries

so we ride without a large crowd




The X-Roads ADV rides could include just over 1,400 miles

of the most spectacular mountain scenery the Rocky Mountains have to offer, in the most scenic riding area of the Country.

The "High Adventure, No Hassle"

approach includes plenty of riding on dirt roads and 2 Track, jeep roads, mountain passes, gravel and paved mountain roads mapped by our local experts and the camaraderie of like-minded individuals.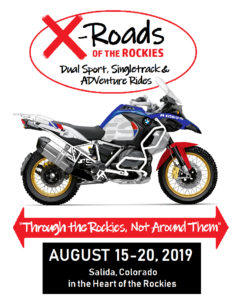 The playground for X-Roads

is among the densest concentration of high peaks and passes in North America.

The ride will be self-guided

by following GPS Tracks and/or a Roll Chart.

Local support

will be available if there are any issues.
The Rocky Mountains in this region are called the rooftop of North America.

With 12 peaks reaching over fourteen thousand feet,

the Collegiate Peaks near Chaffee County are some of the highest peaks in the United States.

The peaks and passes form the backbone

of the Rocky Mountains and the Continental Divide.
The Great Sand Dunes National Monument

is one days destination if you wish. That loop  features an epic pass thru the Sangre de Cristo Wilderness, into the back of the Great Sand Dunes. We will NOT be riding in the Dunes.*

We recommend leaving early

and keeping stops to a minimum. You leave when you wish, ride at your own pace.

We also highly recommend you come with a friend

and be responsible for each other all through the day.

Adventure bikes with off-road tires recommended.*