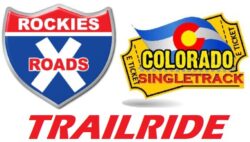 X-ROADS SINGLETRACK TRAILRIDES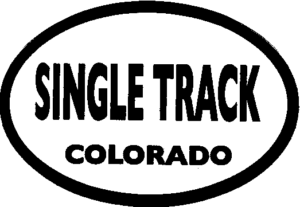 X-ROADS TRAILRIDE

September 16-18 2022

X-ROADS TRAILRIDE 2

October 7-9 2022

Two epic trailrides on the same routes.

If you can't make one date, maybe you can make the other ?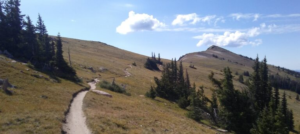 From Howard, CO. on the Arkansas River ride over the Continental Divide to a remote mountain campground in the Colorado River watershed, spend the night and ride back a different way.
Ride Friday to Sunday.
3 days of riding.
Outstanding Rocky Mountain Singletrack.
Singletrack to overnight on the other side of the Divide on Day 1.
Camping. Luggage portage.
Day 2 ride back to Howard on outstanding Singletrack trails.
Day 3 ride a over a pass thru the Wilderness, to old mines and more Singletrack.
Limited to up to 25 riders.
The Club insists everyone use the Buddy System.
These are somewhat challenging routes not suitable for Novices.
You do Not need Graham Jarvis type skills, but you do need some skills.
You will navigate by cell phone compatible Ride with GPS Tracks
We will be around to make sure the days go smoothly.
Portage gear and cook.
Why are these called X-Roads Trailrides?
Because there near where the Crossroads of the Rockies are in the heart of the Rocky Mountains.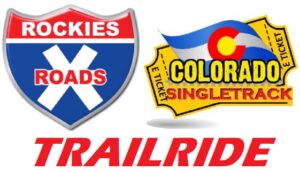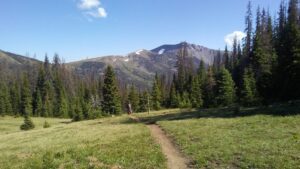 Show up at the campground in Howard, Colorado on Thursday for a BBQ

and beverages.
Day 1 Description

Friday ride a 95 mile singletrack loop on the longest continuous singletrack trail in Colorado.

Ride over the Continental Divide and spend Friday night camping.


The Club will portage your gear.

You will need a tent or you could have someone you know drive your RV to the Campground.
Camping spot included Friday Night.

Fuel stop in Sargents.

Leave your truck securely parked at the campground in Howard.

Day 1 has Less than 5 miles of pavement.
Day 2
Saturday morning breakfast will be provided at the campground.

Ride more killer singletrack on your way to the Continental Divide Trail.

From the CDT it's singletrack down to Hwy 50 and Salida on a epic trailride loop.

Head back to where we started on the Arkansas River.

Saturday is the longest loop at 100 miles and fuel & meals will be available in town.

Return to the Campground where we started.

10% pavement
Day 3
Sunday Day 3 is a 96 mile ride over a high mountain pass through the wilderness on 2 track to and through an area with some awesome old mining buildings and history.

Ride some off-the-scale singletrack along the wilderness boundary a 1/3rd of the loop and head back to the Campground for an included BBQ and beverages.

Day 3 has Less than 5 miles of pavement
Day 4
Depart on Monday.
On Monday you could do a really fun 75 mile Dual Sport Loop to the Salida Volcanic Crater for an awesome view of the area.
If you didn't get enough riding the previous 3 days…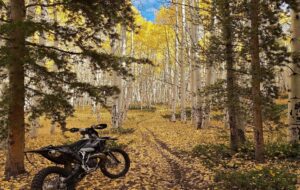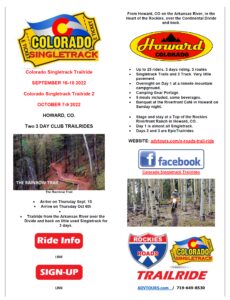 Day 1 X ROADS SINGLETRACK TRAILRIDES OUTLINE
Camp at the Arkansas River on arrival at the private campground on Thursday.
On Friday Day 1 ride a majority Singletrack trail for 100 miles to a campground on the other side of the mountains for Friday night.
Fuel available for purchase on the trail at 75 miles.
Club will portage your gear.
Day 2 ride as much Singletrack as possible back to where we started the trailride on the Arkansas River.
Fuel available in town

End up back at the staging area where your truck is parked.
Day 3 ride a loop from the river, over a wilderness mountain pass and through a historic mining area, and the Silvercreek section of the Rainbow trail.
Ride singletrack and a river road back to the Arkansas River and the campground
Remote 95 mile loop. Carry a quart if necessary.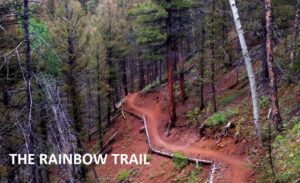 INCLUDED WITH THE RIDE and CLUB MEMBERSHIP:
This Club Trailride will include BBQ and beverages on arrival Thursday.
Breakfast Friday and Saturday and a BBQ and beverages on Sunday.

Meals not provided are available at a local onsite restaurant or in town.

Camping Reservations for 4 Days.


It is up to you to call and hold reservation with your CC.

Friday night camping fee is included with ride

Gear portage
Chase truck

Local Support

Phone compatible GPS Tracks

Ride with GPS Club Membership
T-Shirt
Ride Maps not suitable for navigation

Camaraderie of Like-minded individuals.
An epic 3 days of riding almost 300 miles you wouldn't put together on your own.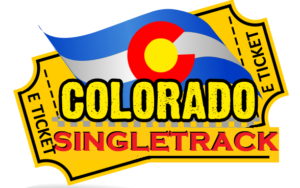 CAMPING & LODGING INFO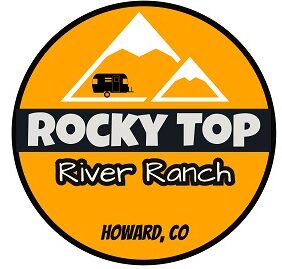 CAMP in HOWARD at the ROCKY TOP RIVER RANCH

PAY FOR YOUR OWN CAMPING RESERVATIONS FROM THURSDAY THROUGH SUNDAY NIGHT. (FRIDAY IN THE MOUNTAINS IS INCLUDED WITH THE RIDE )

YOU WILL HAVE TO PAY TO LEAVE YOUR TRUCK SECURELY PARKED AT THE CAMPGROUND ON FRIDAY NIGHT WHEN WE STAY IN THE MOUNTAINS.
The Club has asked that most of the campground be reserved.

Motel rooms and cabins will be available.

Call Rocky top and reserve your space as soon as possible.

X-ROADS TRAILRIDE September 15-16-17 2022
X-ROADS TRAILRIDE 2 October 6-7-8 2022

Sunday Night option would be Sept 18 or Oct 9

719-942-3811

Website LINK:

https://rockytopriverranch.com/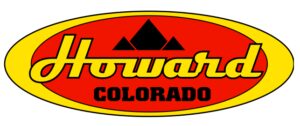 CAMPING in HOWARD,CO.

Full-hookup RV sites
Truck & tent sites
Picnic tables

Motel rooms and cabins may be available
NECESSITIES
Free WIFI
Clean bathrooms & showers
Firewood & ice for sale
Pavilion

Next to the Arkansas River

Restaurant onsite:
_______________________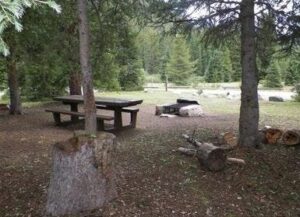 CAMPING ON FRIDAY NIGHT
Friday Night the club will portage your overnight gear to the campground in the mountains.

We will camp at a remote mountain campground with water and outhouses.

You will need a tent or you could have someone you know drive your RV to the campground.

The Club will supply dinner Friday night and breakfast Saturday morning.

A moderate amount of adult beverages are included Friday night.

Camping Fee is Included for Friday Night

Directions, Camping Info and additional Info will be emailed after Sign-Up confirmation
Ride with GPS Tracks will be emailed 2 weeks before the ride date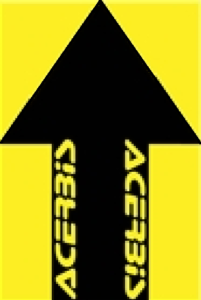 X-ROADS TRAILRIDE September 16-18 2022
X-ROADS TRAILRIDE 2 October 7-9 2022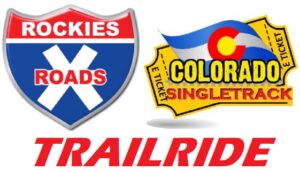 X-Roads BV is another Option for Singletrack loops in the Rocky Mountains in Mid August