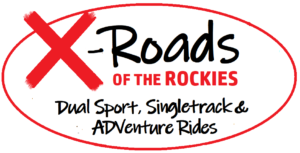 RIDE OVERVIEW
X-Roads of the Rockies in 2019 is a 3-day event with 3 bonus days. Thursday to Tuesday.
Bring 2 bikes and ride Dual Sport, Singletrack & Adventure loops?
Spend the weekend riding the best stuff in Heart of the Rockies.
Loops clover-leaf from the Chaffee County Fairgrounds at the Crossroads of the Rockies.

20+ GPS loops, over 3,000 miles for you to ride with your own group or combine with another group for even more camaraderie.
GPS Tracks, camping, 5 meals, beverages, bonfire & camaraderie and a finisher pin are included.
Awards for furthest traveled and oldest rider.
20+ GPS loops and 4 Warm-up loops for 5 Days in the Heart Of the Rocky Mountains.
Over 3,000 miles of routes
900 miles of Dual Sport loops, 450 miles of Singletrack loops, 1,400 miles of ADV loops.
Camping for 5 nights, 3 dinners and 2 breakfasts included
GPS Tracks to fishing lakes and fishing access on the Arkansas River.
Go River Rafting if your into that sorta thing ?
5 Rocky Mountain Hot Springs are in the area.
Through the Rockies, Not Around Them
Sign-Up is Open – The Ride will not be over-prescribed. We will update the website when the ride is Full.
This ride has amenities available, such as meals, parking/meeting arrangements, camping, and fuel stops at Gas Stations.
You will need to carry cash or a credit card

for fuel and snacks & meals on the loops

Club Membership is included with your entry.

12,000 on the Continental Divide at Hancock Pass
These are not a guided ride, and are not a ride for novices. In fact, if you're not an experienced rider these may not be the rides for you.
We recommend a plated dirt bike or Dual Sport motorcycle, a front knobby and a Hybrid Trials rear tire for the terrain the Dual Sport routes cover.

We suggest a plated Dirt Bike

for the Singletrack loops.

For the ADV Routes we recommend a 650cc or more Adventure motorcycle. For the more off -road focused ADV loops, we recommend  aggressive Off-road tires.
These rides are limited to 75 riders so as to keep with USFS Guidelines, keep the groups manageable and so we can all have an enjoyable experience without a large crowd.
GPS tracks to fishing lakes and locales on the Arkansas River are included with the ride. You may fish if that's your thing. (Fishing license recommended).
We recommend leaving early and keeping stops to a minimum. You leave when you wish, ride at your own pace, and ride with whomever you like.
We also highly recommend you come with a friend or team up with another rider and be responsible for each other all through the day.
Riders meeting at 7 and 8 am Friday – Monday mornings. You should be on the trail by 9 am all days you choose to ride.
Larger over 600cc Dual sport or Factory Dual sport Motorcycles are suitable for the 'B' routes.
'C' and 'B' Dual Sport Routes should be negotiable by competent riders on over 600cc or factory Dual Sport models.
'C' Dual Sport loops are navigable by ADV Motorcycles
'A+ & A' Singletrack loops should only be attempted by prepared and competent riders.
Off-Road focused ADV loops should only be navigated by competent ADV riders.
Pikes Peak, Headwaters and the Continental Divide ADV loops and 2 Passes Loops should be suitable for any ADV rider.
Heart of the Rockies Weather in August:
Daily High temperatures in August from 78°F to 74°F, rarely falling below 67°F or exceeding 85°F.
Daily Low temperatures in August from 51°F to 47°F, rarely falling below 41°F or exceeding 56°F.
The chance of humidity is essentially constant during August, remaining around 0% throughout.
The best time of year to visit the area for warm-weather activities is mid-August.
The wetter season lasts 4.3 months, from April 30 to September 9, with a greater than 19% chance of any given day being a wet day.
The chance of a wet day peaks at 31% on August 10.

Hot Springs Tour Team parked @ Glenwood Hot Springs

Hayden Pass is a Rough 4WD Pass through the Wilderness.

Autumn Hot Springs Adventure Tour T-shirt Logo

Old Mine in Bonanza, Colorado
The Best of the West, Scenic Passageway to History

Steam Engine @ the Palisades in the 1800's

Historically the canyons and passes we will travel have provided the only routes through the Rocky Mountains for trains and automobiles.
The 2 track provided access for prospecting at mines and for logging.
The engineering required to get trains over and through the canyons and up the passes was the most difficult feat within the entire continental US Railroad system.

"Now This is Colorado" Chaffee County, Colorado

Exit Tours MC's Larry Heschke on a smooth section of Singletrack