For 2018 Exit Tours Motorcycle Club will be hosting Five 2 Day Tours & Camps in the Rockies Mountains of Colorado and New Mexico. 2 Dual Sport Rides. One 5 Day Hot Springs ADV Tour over the Continental Divide.
SIGN UP PAGE LINKS:
DUAL SPORT RIDES in CALIFORNIA & COLORADO SIGN-UP PAGE LINKS
HOT SPRINGS ADV TOUR SIGN-UP PAGE LINK
 Our club's Adventures are shared group expense and dirt-oriented.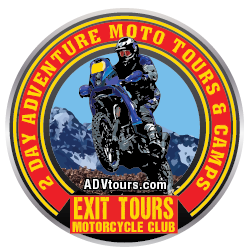 We work to minimize pavement mileage, maximize scenery, have fun and generally only use paved roads as necessary to tie dirt loops together and access amenities.
Our rides cover routes you cannot put together on a map. If you could put the routes on a map, you couldn't follow the map.
Trail markings in the Rocky Mountains are, even in designated riding areas, often missing, non-existent, outdated, misplaced or confusing.
Team parked @ Glenwood Hot Springs
Chaffee County, Colorado and environs should truly be called a 'Mecca' for off-road motorcyclist's.
Mecca  – noun
1) A place that is regarded as the center of an activity or interest.
2) A goal to which adherents of a religious faith or practice should fervently aspire.
The Arkansas River starts to the North in Leadville and Exits the Rocky Mountains to the East through Salida, which means 'Exit' in Spanish. The headwaters of the Rio Grande river are the Southern boundary of the County.The Headwaters of the Colorado River are the Western boundary.
Honda CRF 450's at the start of the 2018 Dakar Rally
There are more 14 thousand foot peaks in Chaffee County than in any other County in the Continental U.S.
There are hundreds of miles of old mining roads, railroad right of ways and singletrack trails in the area. Multiple Mountain Passes.

Plus, one of the only portions of the Continental Divide Trail open to motorcycles.
Hayden Pass is a Rough 4WD Pass through the Sangre de Cristo Wilderness
Club Membership is Included with Signing Up
There is no qualifying or probation period to become an Exit Tours Motorcycle Club member. There are no required meetings or work days associated with membership — Just join and ride!
Team on Whale Hill in Bonanza, Colorado @ 12,000 feet. San Luis Valley 4,000 feet below.  R-Series Photo
The rides will be along these lines:
Have you ever wanted to ride motorcycles in Colorado and the Rocky Mountains?
But don't know where to ride?
Or stay, eat or get fuel?
Or do you want to ride trails & Mountain Passes you've only heard about?
Or Not worry about which way to turn ? Never having to double back ?
Or just want to go riding somewhere different?
We have the answer.
Hot Springs Tour with Andrew Kane, Jubal Brown & Sean Barr in Buena Vista, CO
"For the 2 Day ADV Tours of the Rockies you can't sleep in till 10. You gotta hit the road by 9 and not screw around all day smelling the colorful flowers. This is not a chaperoned, follow the leader trail ride. Not a wait around, 20 minutes every hour so guys can piss kind of ride."
You will ride with an 'Outrider', not a 'Guide'.
The slowest guy sets the pace.
If you are not already a semi-competent rider these may not be the rides for you?
We also highly recommend you come with a friend and be responsible for each other all through the day.
Singletrack Team @ the Ponderosa Lodge in Maysville, Colorado. Flagpole from the World Trade Center

WHAT DO YOU NEED TO GET STARTED?
A Sense of Adventure and Common Sense.
If you have to ask if you can ride your motorcycle over some high mountain 4×4 pass's and survive, you probably don't have the knowledge or skills to do it.
If you have to ask, don't do it. Even if you have ridden all of the toughest trails in Iowa…
Just a few Example Loops we can Ride from the Start Locales in 2018:
Waunita, Black Sage, Pitkin, Cochetopa, Ute Pass, Poncha Pass, Monarch to Old Monarch
Marshall Pass, Otto Mears, Poncha Loop, Poncha Pass, Taylor Gulch, Monarch
Ute Pass, Otto Mears, Silvercreek, Ute Trail, Herring Park, Cotopaxi, Hayden Pass
Poncha Loop, Trout Creek, Aspen Ridge, Cotopaxi, Wet Mountains, Medano Pass, Great Sand Dunes
Black Sage, Tomichi, Hancock, 4 Mile, Aspen Ridge, Otto Mears, Ute Pass
Granite, Independence, Aspen, Hagerman, Turquoise Lake, Leadville, Midland RR Grade, Aspen ridge
Twin Lakes, Leadville, Mosquito, Weston, Lenhardy cutoff, Trout creek, Aspen Ridge, Herring park
Wheeler Geologic Area, Creede, Slummigin, Gunnison, Pitkin
Truth or Consequences New Mexico and Elephant Butte
Aspen ridge to Mount Antero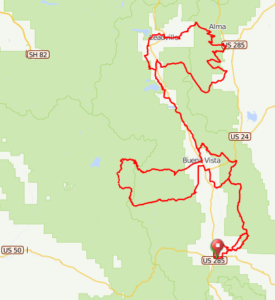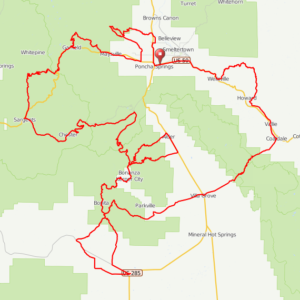 Example routes. On the Left or top is 300+ Miles. On the Right or bottom is 140+ miles
Autumn Hot Springs Adventure Tour T-shirt Logo from 2013
The Tours & Camps will have a riders meeting every morning at 8 am where we will discuss the day's ride.
Riders ride at their own pace with whoever they want. Everyone should be on the route by 9 am.
We will provide an area map of each days route and include options for shorter routes, bypasses that avoid difficult sections, if available, and/or bailout routes to the finish.
Fuel Stops will be at approximately 40 and 80 miles at fuel stations where you can also purchase food and beverages.
"Now This is Colorado", Chaffee County
Navigation:
We do not provide guides. Every rider will be provided with a map.
The maps provide an overview of each day's route so that riders have a general sense of where they are and where they're going, but are not detailed-enough for navigation.
There will be no course markings.
Since GPS units sometimes fail or get confused and do not support annotations and ancillary information, they should only be used as an aid for navigation.
Hazards DO exist on our routes, such as downed trees, washouts, rocks, etc. and will NOT be marked in any fashion. 
All routes are publicly-accessible, so you may encounter other riders and traffic.
You will ride with Outrider's who will float and we will stop at intersections and point in the correct direction.
Whomever is leading will need to stop at all trail intersections.
The Palisades on the way to the Alpine tunnel
MOTORCYCLE WE RECOMMEND:
250 to 1290cc Dual Sport or Adventure Motorcycles
Your motorcycle should be capable of going at least 80-miles before needing a fill-up. 
If your bike doesn't have the necessary range you should carry extra gas with you – our gas stops are scheduled at gas stations along the routes both Days.

Have your motorcycle geared for at least 70 mph so that you can keep up with traffic on highway sections.
You will ride through remote, rugged locations that are often inaccessible by truck.
You should carry your own tube, plug kit, tool kit, air, lighter, first aid, water, snacks, tow strap, etc.

Carry a cell phone and we highly recommend the use of a satellite-operated tracking and rescue device such as a SPOT – you will often be out of cell phone range.
We also recommend you obtain appropriate healthcare insurance before participating in any rides.
Dual Sport Team @ the Ponderosa Lodge
Arkansas River and the Sangre de Cristo Wilderness from near Cotopaxi
We use PayPal to make it easy to sign -up. 
(You do not to be a PayPal subscriber to use PayPal)
Sunset on the Continental Divide
Salida is 70 miles from Gunnison and 99 miles from Colorado Springs
Smeltertown Smokestack National Historic Landmark. Continental Divide in the background.