RIDE OVERVIEW

For 2018 Exit Tours Motorcycle Club will be hosting one 2 Day ADV Tour & Camp in the Rocky Mountains of Colorado. 4 Dual Sport Rides.
One 5 Day Hot Springs ADV Tour to Hot Springs on the Continental Divide. 1 Singletrack Club Ride.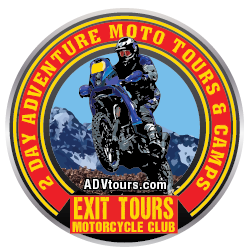 We work to minimize pavement mileage, maximize scenery, have fun and generally only use paved roads as necessary to tie dirt loops together and access amenities.
Our rides cover routes you cannot put together on a map. If you could put the routes on a map, you couldn't follow the map. Trail markings in the Rocky Mountains are, even in designated riding areas, often missing, non-existent, outdated, misplaced or confusing.
Hot Springs Tour Team parked @ Glenwood Hot Springs
Chaffee County, Colorado and the Heart of the Rockies and environs should truly be called a 'Mecca' for off-road motorcyclist's.
Mecca  – noun
1) A place that is regarded as the center of an activity or interest.
2) A goal to which adherents of a religious faith or practice should fervently aspire.
Singletrack Team @ the Ponderosa Lodge in Maysville, Colorado.
The Headwaters and Watersheds of 4 Major American River all start in the Heart of the Rocky Mountains.
The Arkansas River starts to the North in Leadville and Exits the Rocky Mountains to the East through Salida, which means 'Exit' in Spanish. The headwaters of the Rio Grande river are the Southern boundary of the County.The Headwaters of the Colorado River are the Western boundary. The Platte River starts to the East of Leadville.
There are more 14 thousand foot peaks in Chaffee County than in any other County in the Continental U.S.
There are hundreds of miles of old mining roads, railroad right of ways and singletrack trails in the area. Multiple Mountain Passes.

Plus, one of the only portions of the Continental Divide Trail open to motorcycles.

Hayden Pass is a Rough 4WD Pass through the Sangre de Cristo Wilderness
Club Membership is Included with Signing Up
There is no qualifying or probation period to become an Exit Tours Motorcycle Club member. There are no required meetings or work days associated with membership — Just join and ride!
Ask yourself these Questions:
Have you ever wanted to ride motorcycles in Colorado and the Rocky Mountains?
But don't know where to ride?
Or stay, eat or get fuel?
Or do you want to ride trails & Mountain Passes you've only heard about?
Or Not worry about which way to turn ? Never having to double back ?
Or just want to go riding somewhere different?
We may have the answer.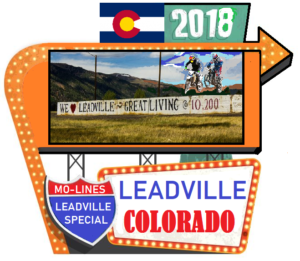 LEADVILLE SINGLETRACK with Mo-Lines
JULY 14 & 15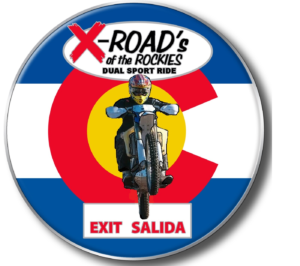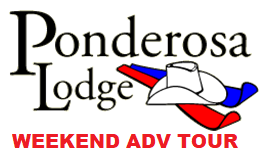 AUG. 30- SEPT . 1-2
OLD COWTOWN RESORT, SAGUACHE, CO*
SEPTEMBER 7-9*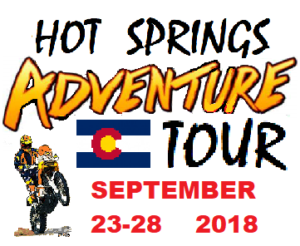 SEPTEMBER 23-28
OLD COWTOWN RESORT, SAGUACHE, CO*
OCTOBER 5-7*

WHAT DO YOU NEED TO GET STARTED?
A Sense of Adventure and Common Sense.
If you have to ask if you can ride your motorcycle over some high mountain 4×4 pass's and survive, you probably don't have the knowledge or skills to do it.
If you have to ask, don't do it. Even if you have ridden all of the toughest trails in Iowa…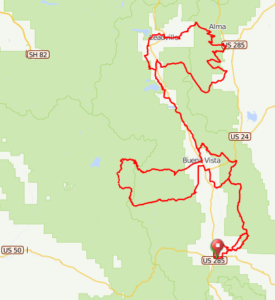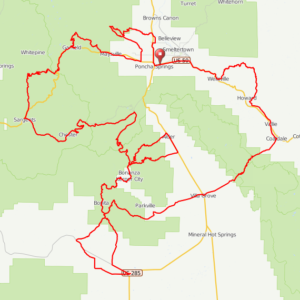 Example routes. On the Left or top is 300+ Miles.
Route on the Right or bottom is 140+ miles
LINK TO MORE ROUTE EXAMPLES HERE
Autumn Hot Springs Adventure Tour T-shirt Logo



"Now This is Colorado", Chaffee County

Old Mine in Bonanza, Colorado

The Best of the West, Scenic Passageway to History in Gunnison County.

Suzuki DR 650 @ over 12,000 on the Continental Divide at Hancock Pass

Steam Engine @ the Palisades on it's way to the Alpine Tunnel
Historically the canyons and passes we will travel have provided the only routes through the Rocky Mountains for trains and automobiles.
The 2 track provided access for prospecting at Mines and for Logging.
The engineering required to get Trains over and through the canyons and passes was the most difficult feat within the entire Continental US Railroad system.

"Now This is Colorado", Chaffee County, Colorado
Event organizer Exit Tours Motorcycle Club is based in Salida, Colorado
The Tours combined, have access to over 20 mountain passes.

The Dual Sport Adventure Rides are Limited to 75 Participants.

The 5 Day ADV Moto Hot Springs Tour is limited to 20 riders because of Lodging Parameters.

The Cali Dual Sport is limited to 40 because of Lodging Parameters.

The Dual Sport rides are Limited to 75 because of USFS Club Ride Regulations.
NOTE: Camping is the only included Option @ X-Roads of the Rockies.

Exit Tours MC's Larry Heschke on a smooth section of Singletrack.
We use PayPal to make it easy to sign -up. 
(You do not to be a PayPal subscriber to use PayPal)