Great Sand Dunes Adventure Ride September 11 & 12
Adventure Ride to the Great Sand Dunes Hot Springs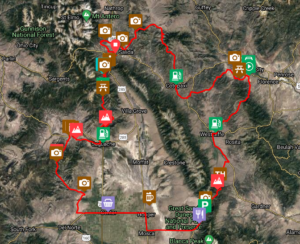 350 Mile Loop with a Hot Springs in the middle of it !
Clockwise – Fun extremely entertaining 350 mile route. 75% off road. 4 fuel stops available. Ride almost to Canon City mostly Off-road. Temple Canyon to Oak Creek Grade to Silvercliffe.
Wet Mountain Valley to Medano Pass thru the Sangre de Cristo Wilderness into back of the Great Sand Dunes. Spend the night at the Sand Dunes Hot Springs. Enjoy the Hot Springs Pool. Great Food.
Cross the San Luis Valley near Center then offroad over Canero Pass and Ute Pass near Saguache. Then ride into Bonanza and then over the Otto Mears Tollroad.
Knobbies recommended thru the back of Great Sand Dunes. Several fun mountain passes off-road.
This is an EPIC ride you will remember for years. Sand thru the back of the dunes is soft so stay on the gas! This route is one you would not put together on your own. Meet and end in Salida.
Club will reserve Camping spots and buy dinner Saturday night. Portage Camping Gear.