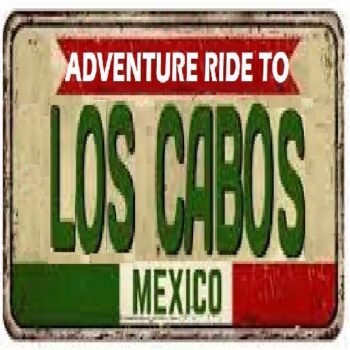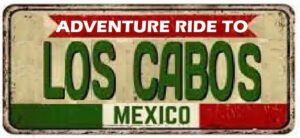 REQUIREMENTS for the Club Baja Adventure Ride to Los Cabos

With Exit Tours MC & Moto Haus on Feb 9-23, 2023
Adventure Type Motorcycle

Enthusiasm and Competency

Passport

Mexican Visa

Mexican Motorcycle Insurance

Medical and Emergency Flight Insurance

Spot X or Garmin In-Reach (For Satellite texting capability)

New Tires

Newer chain & sprockets

Tool kit & tire repair apparatus

Cell Phone or GPS unit for Navigation

Charging system for Navigation system

Cradle for your phone or GPS Unit

You are responsible for making your Hotel Reservations Each Night

Cash & Credit Card
Discounted Medjet Insurance LINK

The Club will do Scrutineering on Thursday Feb 9 at the RIDE HQ.
'We cannot jeopardize the entire trip for the rest of the group because your motorcycle failed.'
Please make sure your motorcycle is in tip-top condition.
Please show up with all of the above… Plus your gear and your personal items
Deadline for Sign-Up is DEC 1 2022 or until spots are filled.
CONTACT MIKE FOR MORE INFO:
719-649-8530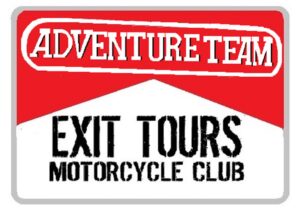 We will follow up with directions and will email GPS Tracks 2 weeks before ride date.
Look for various updates in your inbox after you Sign-Up.
You DO NOT have to be a PayPal subscriber to use PayPal

MEXICAN VISA AND INSURANCE INFO:
To get a tourist Visa online, click the link below and follow the English (EN) instructions for "by Land"
https://www.inm.gob.mx/fmme/publico/en/solicitud.html
Fill out the required Info and make your payment.
Use the first night's hotel as the address in MX they ask for. Print the receipt and bring it with you.
You will receive an email from: notificaciones-inm@inami.gob.mx
The email will contain a link to print your Visa (FMM), print it and bring with you.
Upon entry into MX they will want to see both the FMM permit and the receipt.
The FMM is important to have for the checkpoints. You will probably never be asked for them, but if you were…
Customs also may look at upon re-entry in to the US.
INFO ON MOTORCYCLE INSURANCE:
You will also want a quality copy proving ownership of your motorcycle. In your name.