View of the Arkansas river valley & Chalk cliffs from 14,000 foot+ Mt. Antero

FREQUENTLY ASKED QUESTIONS
Q: WHAT DO I NEED TO GET STARTED?
A sense of adventure and common sense.
If you have to ask if you can ride your motorcycle over some High mountain 4×4 pass's and survive, you probably don't have the knowledge or skills to do it.
Q: WHO IS INVITED?
Any Competent Rider with a Street Legal Adventure or Dual Sport Motorcycle.
ADV Rides have 12 rider Limit.  Dual Sport Rides are Limited to 75. Either way, you will Not Get Lost In The Crowd.
Online Sign-Up Only.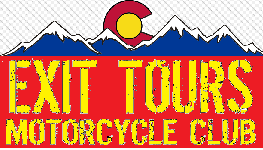 Q: DO I HAVE TO BE A CLUB MEMBER?
Yes. Membership is Included with your entry.
There is no qualifying or probation period to become an Exit Tours Motorcycle Club member and there are no required meetings or work days associated with your membership.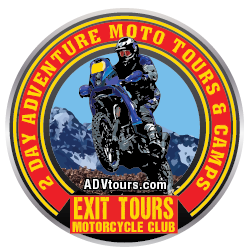 Q: WHAT KIND OF MOTORCYCLES DO YOU RECOMMEND?
We recommend a 250 -1290cc Adventure Motorcycle for the ADV Tours.
Dual Sport Rides We Like a 250- 500cc + street-legal dirt bike for those up to the challenge. 
Your bike should have new aggressive off-road tires. Be Geared to go at Least 70 MPH so you can keep up with Highway Traffic.
Smaller play bikes are not recommended.
CRF 250 Rally or KLX 250s
CRF1000L2 Africa Twin
DR650s
KTM ADV's
BMWs
Beta's
Husqvarna's
Plated Dirt Bikes
Q: HOW DO I NAVIGATE THE ROUTE?
This is not a guided tour, You will Ride with Outriders.
GPS TRacks and Roll Charts may be available
Outriders will stop at all intersections and the Outriders will point the way. You May be responsible for the Rider behind you.

Q: ARE MAPS SUITABLE FOR NAVIGATION?
Maps are Not suitable for navigation.
But Maps will give you an Idea of the route and any shortcuts or Bailouts that may exist.
Q: WHAT KIND OF HAZARDS EXIST?
Hazards do exist on our routes: Such as downed trees, washouts, rocks, etc. and will NOT be marked in any fashion. 
All routes are publicly-accessible, so you may encounter other riders and traffic.
Riders need to use caution and common sense at all times and stay to the right when possible. 
Particularly around blind turns.
Remember vehicles heading uphill have the right-of-way.
3 Amigos with Dixie Dual Sport on Top of Mosquito Pass
Q: DO I HAVE TO HAVE A BUDDY TO RIDE WITH?
We discourage you from riding alone and encourage everyone to use the buddy system and pair up with at least one other rider so that you can look after each other.
Your ride will be enhanced if you ride with others who are of the same skill level, are riding similar motorcycles, and have compatible desires for the ride.
(Speed of travel, how often to stop for a rest and pictures, etc.).
Although we will have outriders, we won't have any checkpoints throughout the day or sweep riders to keep track of you.
2018 Honda Dakar Rally Team with a Africa Twin
Q: IS IT IMPORTANT TO CARRY A CELL PHONE?
Yes, it's important to carry your cell phone. 
However, we highly recommend the use of a satellite-operated tracking and rescue device such as a SPOT – since you will often be out of cell phone range. A Spot Find-me is an inexpensive investment that can save your life.

Q: DOES THE RIDE INCLUDE ANY HEALTHCARE COVERAGE?
No, it does not.  Therefore, we highly recommend you obtain appropriate healthcare insurance before participating in any rides.
Exit Tours Board Member Matt Abbey with a group of Hot Springs Tour ADV riders @ his Railroad
Q: WILL THERE BE OUTRIDERS?
Yes, for these ADV Tours and Club Dual Sport rides there will be "outriders" to assist you. If you need a shortcut to the finish or have questions along the way. Outriders will 'Point' the way.

But  they should NOT be considered "sweep" riders: They are not medics, will not be available to fix bikes or change flats, nor will they have extra parts.
If you get stranded, we will of course do whatever we can to bail you out. 
However, if we need to arrange evacuation, medical aid, or any other form of rescue assistance for you, there most likely will be an outside charge associated with that assistance.
Q: WILL THERE BE AN OFFICIAL PHOTOGRAPHER?
There may be a professional photographer along on the ride in a strategic place each day to take your picture and provide photos for you online after the event.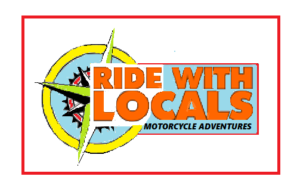 EXIT TOURS MOTORCYCLE CLUB'S ADVENTURES are shared group expense and dirt-oriented.
WE WORK TO MINIMIZE PAVEMENT MILEAGE, maximize scenery and fun, and generally only use paved roads as necessary to tie dirt loops together and access amenities.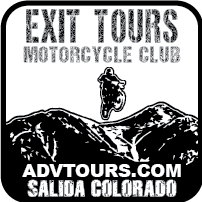 EXIT TOURS MOTORCYCLE CLUB RIDES ARE NON-COMPETITIVE.
They are for licensed, insured riders with street legal, quiet motorcycles with a USFS approved spark arrestor, but we do not inspect any motorcycles. It is the riders responsibility to Comply with these regulations.
Old School Honda ADV Rider @ Dakar
Exit Tours Motorcycle Club rides are not competitions, nor are prizes or trophies awarded.
All participants are on their own, riding at their own pace, at their own risk, and always have the option to follow the designated route or to follow another route of their choosing.