Have you ever wanted to ride motorcycles in Colorado and the Rocky Mountains?
But don't know where to ride?
Or stay, eat or get fuel?
Or do you want to ride trails & Mountain Passes you've only heard about?
Or just want to go riding somewhere different?
We may have the answer.
X-Roads is a classic dual sport event, the way they were in the early days.
You won't find:
You will find an enduro based ride that takes just about all day to complete.
Offering you challenges and scenic landscapes and enough stories to tell for the rest of the year.



The 2018 version of the X-Roads of the Rockies will be held Aug 17- 20th 2018 from the Chaffee County Fairgrounds @ Crossroads of the Rockies in the Heart of the Rockies.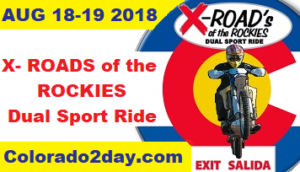 Link to COLORADO2Day.com
RIDE DETAILS:
125 + Mile Loop Saturday
125 – 140 + Mile Loop Sunday
2 Track, Dirt Roads & Singletrack < 15 % Pavement
Multiple High Mountain Pass Summit's
Ride through the Wilderness and along the Arkansas River
Xtra Singletrack & Bailouts will be Available Both Days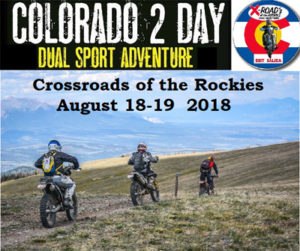 Included Amenities:
The X-Roads Dual Sport ride will include Camping Friday until Tuesday.
• Friday Night arrival BBQ & Beverages, Bonfire
• Roll-Charts, GPS Tracks, Outriders & Maps
• Friday ride to Alpine Lakes and Fish* if you wish
• Hot Springs Pool Pass included down the Street. Showers Onsite
Exit Tours Club Membership
X-Roads T-Shirt.
Finisher Pin
Fuel Portage and Lunch and Beverages on Sunday
GPS tracks will be emailed
Roll charts pre-printed and cut
$260 Pre-Entry includes ALL of the Above
75 Rider Limit: Post – Entry $295 Check Website for Availability
ADV Bikes & KLR's Not Recommended
BONUS: 75 Mile Singletrack Ride Monday Included with X-Roads Dual Sport Ride.
Monday August 20th we will ride a 75 mile loop that is over half fun singletrack.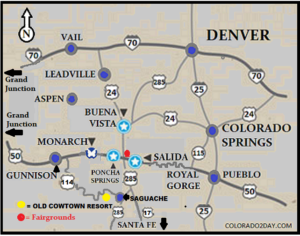 RIDE DESCRIPTION
Our club's adventures are shared group expense and dirt-oriented;
Our rides vary in elevation from 7,000 to over 12,000 feet

We only use pavement to tie Loops together

Weather in the Summer in the Rocky Mountains is cool and the scenery is green

Terrain is little used 2 Track, jeep roads, singletrack and a few rocks

You will cover the routes with a roll-chart and/or GPS. No arrows or Guides

We have a camping area for Tents, trailers and RV's at the Fairgrounds; meals and fuel stops planned that make a Rocky Mountain riding adventure fun & stress free.

This is a non-commercial group club ride for under 75 riders, not paying an entry fee for the ride but for amenities with the ride on an unguided ride with roll charts, GPS Tracks and outriders.

Our concept for this adventure was to make this ride accessible to everybody.

These are not the exclusive Colorado rides you've heard about where you need an invitation.

This ride cost is a 1/4 what the 'exclusive' rides in Colorado cost.

We use a "High Adventure, No Hassle approach where you can share the experience with like-minded enthusiasts".
Please see 'Overview' and 'FAQ' for a more detailed analysis of the 2018 X- Roads of the Rockies Dual Sport Ride at the crossroads of the Rocky Mountains.

Our rides cover Routes you can't put together on a map, and if you could, you couldn't follow the map. Trail markings in the Rocky Mountains are, even in designated riding areas, often missing, non-existent, outdated, misplaced or confusing.

Riding with an Exit Tours Roll-Chart and/or GPS Track you can spend your day riding, not wondering which way to turn or where you are, with no worry about running out of fuel or where to eat.

Exit Tours rides make riding in the Rocky Mountains safe and more fun!