TRAILRIDE WEEK JULY 11-16 SUNDAY to FRIDAY
TRAILRIDE WEEK – 5 Days of Riding – 400 miles
Five Days of Singletrack Dual Sport loops from 2 locations.
What would you think after all the Covid Panic BS of 5 days of Trail riding in the Heart of the Rockies ? From Sunday to Friday. Take the weekends to travel ?
Join the club for $399 and this ride is included. You get GPS tracks, reservations for camping or lodging, several meals, a chase truck and driver and luggage portage. T-Shirt. Maps of the route. And we will be around to make sure the week goes smoothly.
Show up at the Sugarbush campground in Howard, Colorado on Sunday July 11 for a BBQ and beverages.

Monday ride a 75 mile singletrack loop on the longest continuous singletrack trail in Colorado. Ride over the Continental Divide and spend Monday night camping or stay in a cabin at the Tomichi Creek Trading Post in Sargents, with an onsite Bar & Grill and fuel. The Club will portage your gear. Leave your Truck at Sugarbush.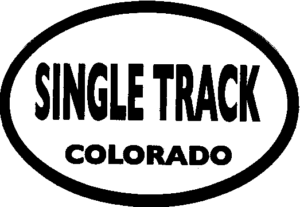 Tuesday Breakfast is included. Ride more killer singletrack on your way to the Continental Divide Trail. From the CDT its singletrack on Greens Creek down to Hwy 50 on a Dual Sport loop and head back to where we started. Tuesday is the longest loop at 112 miles and fuel & meals will be available in town. Return to the Sugarbush Campground where we started or you could stay in a hotel.
Wednesday is a 96 mile ride over a high mountain pass through the wilderness on 2 track to and through an area with some awesome old mining history. Ride some off-the-scale singletrack along the wilderness boundary a 1/3rd of the loop and head back to an included BBQ and beverages.
Thursday morning move up the valley a bit to a new staging and camping area. This is a loop not many have attempted. Only 65 miles but will be a nice challenge. Get on the trail by 10 am and ride some challenging singletrack up to 12k feet and from one watershed to another. Then ride a 2 track pass over the Continental Divide to the Alpine Mirror Lake. From the lake it's singletrack to another pass on the Divide. Pavement from there to a Rocky Mountain Hot Spring. Wear your bathing suit under your gear and stop and soak. Head back to the staging area. Or stay at the Hot Spring.
Friday ride what what could be described as an Epic 35 mile Enduro special test. Steep climbs, rocks and more killer singletrack. End the ride at a Bar & Grill on the river. Head back to where you came from after almost 400 miles of riding for the week.
This should prove to be an epic week of riding you would not do on your own.
Bring your 5th wheel or trailer, stay in a tent or your truck, or drive your truck into town and stay in a hotel.
More Trailride Week Ride outline
Camp at the Arkansas river on arrival Sunday at a private Sugarbush campground.
Day 1 ride to a majority Singletrack trail for 75 miles to a Resort and Bar & Grill in Sargents for Monday night. Fuel available. Club will portage your gear.
Day 2 ride as much singletrack as possible back to the Arkansas River and camp.
Day 3 ride loop from the river through a historic mining area and ride singletrack back to river and camp.
Day 4 move up the Valley. Ride a tough Singletrack loop. Soak at Cottonwood Hot Springs. Camp at campground near Ruby Mountain. Or Lodge at Cottonwood Hot Springs.
Day 5 ride an extreme Singletrack loop and depart.
The Trailride Week is a club ride that will include BBQ and beverages on arrival Sunday, on Wednesday and food at the River Runners riverside Bar & Grill before departure on Friday. Breakfast Monday & Tuesday. Gear portage. Chase truck. Phone compatible GPS Tracks and support. T-Shirt. Ride maps.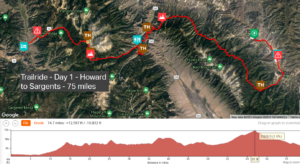 Day 1
East to West – 75 Miles – Rainbow trail. Rainbow singletrack trail to Hwy 285. Cross Hwy. West Rainbow trail to Poncha Loop/Silvercreek. To Marshall Pass up a creek.
Marshall Pass to the Continental Divide Trail. CDT to Agate Creek. Agate Creek to Hwy 50 to Resort. 50+ Miles of Singletrack. Less than 10% pavement. Bar & Grill and fuel at destination.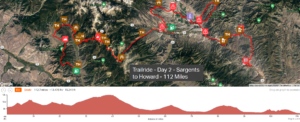 Day 2
Clockwise – 112 miles- From the resort to Black Sage Pass on Singletrack. To Canyon Creek singletrack to Snowblind. To Old Monarch to Monarch Summit. Continental Divide Trail singletrack to down Greens Creek singletrack.
To Fuel in Poncha Springs. To below Mt. Shavano to Hwy 285. River Road to Smeltertown to Ute Mine trail. To Spiral Mtn to Railroad 2 track to Cleora. To Wellsville. Powerline/River Loop to Campground on the river. 40+ miles singletrack. 2 track, & dirt roads. 10% Pavement. Fuel & Snacks Available.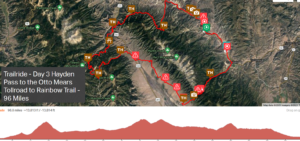 Day 3
Clockwise – 96 Miles – Campground on the river. Ride downstream. To Hayden Creek Road. To over Hayden Pass. Fenceline trail below Sangre De Cristo's to Alder Creek. Clover Creek to Otto Mears Tollroad.
To Silvercreek / West Rainbow Trailhead. Rainbow Singletrack to Hwy 285. Cross 285 to East Rainbow Singletrack. To Bearcreek. To Wellsville. To River Road. To Campground. 30+ Miles of Singletrack. Challenging 2 track. Less than 10% Pavement. This is a remote loop with no fuel or snacks available.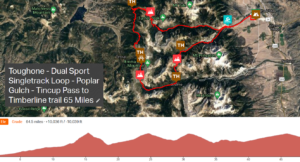 Day 4
Clockwise – 65 Miles – Toughone Dual Sport & Singletrack loop. Buena Vista to Cottonwood Pass. To County Road. To Poplar Gulch Singletrack. To Tincup. To Tincup Pass. To Mirror Lake.
To Timberline Singletrack Trail. To paved Cottonwood Pass. To Cottonwood Hot Springs. Challenging Singletrack, Challenging 2 track. Awesome views. 25% pavement.
Day 5
Clockwise – 45 Miles – Johnson Village to Chinaman Gulch. Chinaman to North Triad Ridge. To South Triad Ridge. To Bald Mtn Gulch. To Arnold Gulch. To ATV Trail. To 300.
To Ruby Mountain. To Raft Put-In at Bar &b Grill on the Arkansas River for Lunch. Fuel in Johnson Village. I

f you camped closer this loop would only be around 38 miles. This is a very challenging Loop

.
That was 5 days of riding and almost 400 Miles. If you rode all 5 days you crossed over the Continental Divide at least 6 times and rode in the headwaters of 3 major rivers. The Rio Grande, the Colorado and the Arkansas rivers. You will need new tires now.
25 Rider Limit. Don't miss out on this what will be an Epic week long Club Trail Ride.
CAMPING & LODGING INFO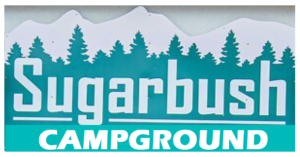 CAMP AT SUGARBUSH JULY 11-15
CALL LILI AT SUGARBUSH CAMPGROUND FOR CAMPING RESERVATIONS FROM SUNDAY JULY 11 UNTIL THURSDAY MORNING JULY 15. YOU WILL HAVE TO PAY TO LEAVE YOUR TRUCK SECURELY PARKED AT THE CAMPGROUND ON MONDAY NIGHT.
719-942-3363
INFO on CAMPGROUND and RESERVATIONS 7/11-14
Monday Night the club will portage your overnight gear to the Tomichi Creek Trading Post in Sargents. The Club has reserved Cabins and you will need to pay with sign-up for the Trailride Week for your choice of lodging at Tomichi Creek. More Info on Sign-Up page.
We have reserved 3 Sleeper Cabins, 1 Resort Cabin, 1 Cottage Cabin and the Bunkhouse for Monday Night July 12. You could also tent camp along Tomichi creek if you choose or all the cabin spaces have been taken.
We see the Sleeper cabins as sleeping 2 each, The cottage cabin as sleeping 4. Up to 6 in the resort cabin and the Bunkhouse will sleep 3.
Pricing for the cabins is not marked up and is priced per cabin. Only one guy in each group need pay and reserve a Cabin.
Tent Camping includes access to the showers' and bathrooms and is only $12.50 for the night. The Club will portage your camping gear if that's what you want to do.
INFO on CABINS at the TOMICHI CREEK TRADING POST
Places to Stay in Buena Vista – Day 4