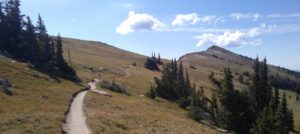 Continental Divide Trail right on the Continental Divide
Singletrack Trail Descriptions

There are many miles of Singletrack trails in the heart of the Rockies and several trails are described in the following paragraphs.
Full day rides are possible on the famous Rainbow Trail and on several of the many trails west of Salida on your own or with a group along and over the Continental Divide.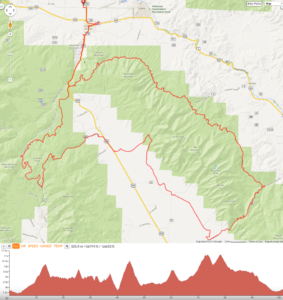 This is the one of loops that includes the Rainbow trail that you could ride at X-Roads.
This Epic 100 mile loop includes the Rainbow trail, Hayden Pass, Bonanza, Clover Creek, Bonanza, Otto Mears Tollroad, Silvercreek. A fuel stop at Hayden Creek pass or Cuttys resort would be necessary.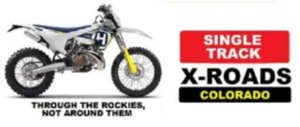 BELOW IS AN ASSESSMENT OF TRAIL DIFFICULTY AND
MAY DIFFER FROM YOUR OPINION:
Fairly Difficult – Singletrack with a few switchbacks and technical areas which are suitable for dirt bikes and lightweight dual sport bikes.
Difficult –Narrower trails, more switchbacks, loose rock areas, ledges and more severe technical areas generally requiring a dirt bike and some skill.

Rainbow Trail
The following table lists Singletrack trails SW mainly of Salida with approx. lengths and degree of difficulty:
*This list does Not cover Trails in Taylor Park or the 4 Mile OHV area
| TRAIL DESCRIPTION | LENGTH | DIFFICULTY |
| --- | --- | --- |
| Agate Creek | 7 mi. | Moderate/ Difficult |
| Baldy Lake | 6 mi. | Moderate/Difficult |
| Barrett Park | 3 mi. | Moderate |
| Big Bend | 5 mi. | Moderate/Difficult |
| Canyon Creek | 9 mi. | Difficult |
| Crest Trail | 10 mi. | Moderate |
| Divide Trail (CDT) | 44 mi. | Moderate |
| Dutchman Creek | 8 mi. | Moderate |
| #50 | 2 mi. | Easy |
| Greens Creek | 7 mi. | Difficult |
| Hicks Gulch | 2 mi. | Moderate |
| Horseshoe | 4 mi. | Very Difficult |
| Left Hand Creek | 3 mi. | Difficult |
| Lime Creek | 1 mi. | Moderate |
| Long Branch | 5 mi. | Difficult |
| Milk Creek | 3 mi. | Moderate |
| North Gulch | 2 mi. | Difficult |
| Poplar Gulch | 12 mi. | Very Difficult |
| Quakey Mountain | 6 mi. | Moderate |
| Razor Creek | 8 mi. | Moderate |
| Right Hand Creek | 2 mi. | Difficult |
| South Quartz Creek | 5 mi. | Difficult |
| Tank 7 Trail | 4 mi. | Fairly Difficult |
| Tomichi Pass | 2 mi, | Fairly Difficult |
| Waunita Creek | 3 mi. | Easy |
| West Fork | 3 mi. | Moderate |
Note: All mileages are approximate, about +/- 10%
There are six places to park and access the trails listed above:
The Monarch Pass parking area
Marshall Pass
Greens Creek trailhead
The Tomichi Creek Trading Post in Sargents.
Shirley Trailhead OHV Area
Chaffee County Fairgrounds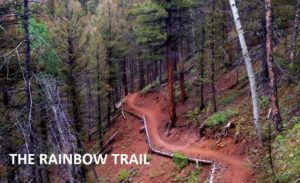 The Rainbow trail from Silvercreek pictured

The Rainbow trail from Poncha Pass

has about 50 miles of very nice flowing, sometimes challenging Singletrack riding to Hayden Creek.

As with any trail, it can be a little rough and narrow in spots. The following is a description of several different sections, going from west to east and gives approximate lengths, difficulty and dropout points for each segment.
Access to the west end

of the Trail from Salida is from Hwy 285. There is a parking area near this junction. The road mileage from Salida to the beginning of the Rainbow Trail is around 17 miles (not included in Rainbow Trail segments below).

The Rainbow Trail is The Longest Continuous Singletrack Trail in Colorado.

The average elevation is About 9,000 feet above sea level.
The Rainbow Trail with Dropouts down to Hwy 50 and Hayden Pass
TABLE OF RAINBOW TRAIL SEGMENT MILEAGE
| Segment | From – To | Segment | Total | Difficulty |
| --- | --- | --- | --- | --- |
| 0 | Start to Silver Creek | 17 | 0 | |
| 1 | West end to 285 | 11 | 11 | Fairly Difficult |
| 2 | 285 to CR 108 | 9.6 | 20.6 | Difficult |
| 3 | CR 108 to CR 101 | 6 | 26.6 | Fairly Difficult |
| 4 | Kerr Gulch | 11 | 37.6 | Difficult |
| 5 | Kerr Gulch to Hayden | 5 | 43 | Difficult |
| 6 | Hayden to CR 40 | 6.8 | 49.4 | Difficult |
Rainbow Trail Section Descriptions
SECTION 1:

This segment begins at Silver Creek/Otto MearsToll Road. At about 6 miles the trail crosses a FR (Forest Road) which accesses a road to the west and Hwy 285 to the east. This segment ends in about 11 miles at Hwy 285, Mears Junction.
Section 1 is Epic Singletrack which flows well and is not too difficult. It is suitable for dirt bikes or a carefully ridden dual sport motorcycle.

This 1st Segment is used on some Dual Sport loops and on a Loop from the Continental Divide Trail.
This segment of the Rainbow really is Epic Singletrack.
SECTION 2:

Segment 2 begins at Hwy 285, Mears Junction and goes mostly east. This section East of 285 is somewhat challenging and suitable only for Dirt Bikes or properly set up Dual Sport Motorcycles. You could ride it on your 690 KTM, but you have been warned. At around 16 miles there is a dropout back to Salida.
The Trail continues about more 3 miles to another dropout. The trail then joins Methodist Mt. Road for a short distance before turning. This segment length is about 9.6 miles long for a total length of about 20.5 miles from the start. Segment 2 is much more challenging, has some awesome views and some steep & rocky and narrow sections; use caution and take it easy through here.
This segment is for dirt bikes only and for skilled and experienced riders.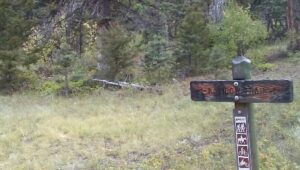 SECTION 3:

This segment goes for about 6 miles to Bear Creek. This section is a nice flowing trail with a few obstacles. The total trail mileage is about 26.6 miles to Bear Creek road. This section is fairly difficult.

SECTION 4:

Segment 4 begins at Bear Creek road and goes another 11 miles to an access at Kerr Gulch. This section is more rocky and difficult with a deep creek crossing or two, but is very scenic and fun to ride. This section is for dirt bikes only. Total trail mileage is about 37.6 miles. This section is fairly difficult.

SECTION 5:

Segment 5 begins at Kerr Gulch and goes 5 miles to the Hayden Creek Trail Head, west of Coaldale. Segment 5 is rocky with loose round rocks; if you like rocks and it's rocks you crave, this is your section. The total trail mileage is now over 43 miles. At this point, if you rode out of Salida, you have ridden a total of about 60 miles. This section is for dirt bikes only. This section will Challenge you in either direction.

Overview of the entire Rainbow Trail
At Hayden Creek you have 4 choices to make, depending upon how energetic your group is at this point.
1. Drop out on FR 6 to Hwy 50 at Coaldale and return to Salida along the Arkansas River. Many riders may be ready for this option.
2. Continue on the Rainbow Trail as far as you want to go*. There was a fire on Hayden Pass several Years ago and the trail has washed out several times. Riding the Raibow past Hayden Creek may not be possible.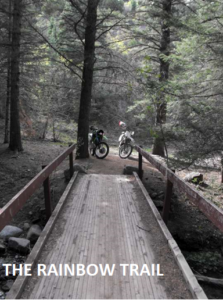 The next section is about 8 miles long and ends at Big Cottonwood Creek, which drops down to Hwy 50. The next section is to Rainbow Lake road at 7.7 miles with a dropout to Hwy 69.
You can of course proceed on the Rainbow Trail for many more miles with dropout access at 12 mi at N. Brush Creek; 11 miles to Middle Taylor Creek; 8 miles to Horn Creek. And finally, another 15 miles to Music Pass, the end of the Rainbow Trail. These dropouts go down to Hwy 69 around Westcliff which is 55 miles from Salida on the road.

3. There are more than several Easy and challenging route options back to Salida. Your total mileage will be 90 to 120 miles. Do you have enough gas?
4. Stop at Cutty's Resort for Lunch ? You could then continue East on the Rainbow without a Guide.
5. Or if you're doing the Overnight Tour you could check into your room and enjoy all the amenities Cutty's Resort has to offer. Indoor and outdoor swimming pools, showers, Poker room, miniature Golf, etc.…
6.Then Ride the Rainbow Trail west the next morning. It's a whole new trail in the other direction. Sidehill is now on your left, downhills are uphill's…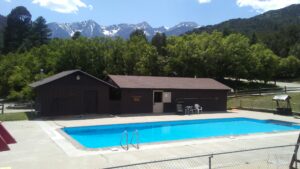 Outdoor Pool at Cutty's Resort
Email if your interested in an overnight ride to Cutty's Resort: exittoursmc@gmail.com
We can make an overnight adventure to Cutty's Resort happen.
MAP RESOURCES FOR RIDING in the Heart of the Rockies
National Geographic Trails Illustrated Maps show contours, trails and jeep roads in detail.

The version showing the Rainbow Trail is #138, Sangre de Cristo Mountains and the trails west of Salida are on the National Geographic Trails Illustrated Topographic Map #139, La Garita and Cochetopa Hills.
Greens Creek in the Autumn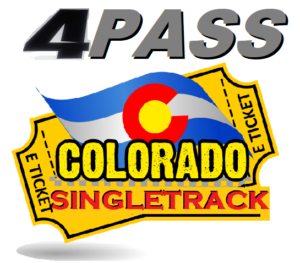 The 4 Pass Loop heads down the Arkansas River in the morning to Coaldale offroad, then you take Hayden Pass to the Rainbow. Head Upriver on the Rainbow to Poncha Pass. Stop for a snack, water and fuel at a Cache near Shirley. Poncha Creek to Marshall Pass. From Marshall Pass take the Continental Divide Trail (CDT) to Monarch Pass.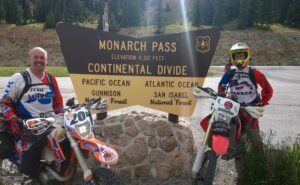 These Wankers got to Monarch Pass the Hard Way
After a photo opportunity at Monarch Pass, head back on the CDT to Greens Creek. Down Greens Creek to the Fairgrounds. You will not be disappointed in the riding or the route. All Day ride.