DIRECTIONS, MEALS & LODGING


Road trip to Colorado where its Green and Cool in the summer
X-Roads stages and all loops cloverleaf from the Chaffee County Fairgrounds in Salida, Colorado
The Chaffee County Fairgrounds are located at the Crossroads of the Rockies at Hwy 50 & Hwy 285

2 hours West of Colorado Springs on Hwy 50

3 hours Southwest of Denver on Hwy 285

3.5 hours West of Grand Junction on Hwy 50

3.5 hours North of Santa Fe, NM on Hwy 285

1.25 hours South of Leadville on Hwy 24/285
ADDRESS: 10165 Co Rd 120, Salida, CO 81201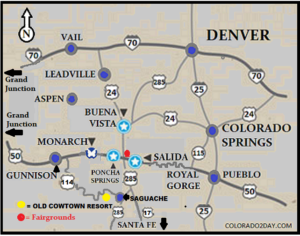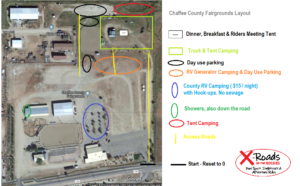 Truck and Tent camping is available in the back of the Fairgrounds, near the Sign-Up shed and the Riders meeting / Dinner Tent.
RV Camping without hook-ups or onboard generators should park in front of the fence near Sign-Up
RV Camping with hook-ups is available in the Fairgrounds RV camping area for an additional fee ($15.00/night) payable to the Fairgrounds Manager
RV's are available for rent locally at  Holiday RV

We will have a circus tent in back where we will have meals and 2 Riders meetings each morning at 7 & 8 am.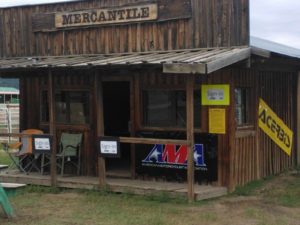 Sign-Up Shed at the Fairgrounds
You only need attend one riders meeting.
2 Breakfast will start approx 6:30 am

3 Dinners from 5-7 pm Fri-Sunday.

Beverages will be available at no additional cost.
We will have a bonfire near the tent each night.
Showers are available at the Fairgrounds.
Showers & a Pool also available at the Salida Hot Springs Pool down the street
Porta-Potties will be available.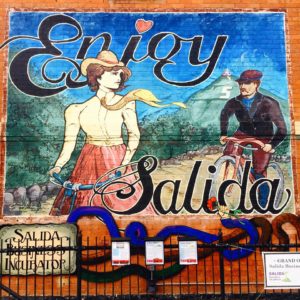 Red = Linked
LODGING and FOOD AVAILABLE NEARBY 
• Mount Princeton Hot Springs Resort
• Joyful Journey Hot Springs
• Hampton Inn Salida
• Poncha Lodge Motel
• Enjoy Salida Vacation Rentals
• The Mountain Motel
• Silver Ridge Lodge
• The Tudor Rose
• Wood's Ridge Vacation Homes
• Ski Town Condos
• The Thomas House
• Great Western Colorado Lodge
• High Country Heaven
• Cutty's Hayden Creek Resort
HOT SPRINGS, SWIMMING POOLS
• Salida Hot Springs Pool
• Cottonwood Hot Springs Inn & Spa
• Mount Princeton Hot Springs Resort
• Joyful Journey Hot Springs
PLACES TO EAT – Salida & Poncha Springs
• Quincys Steakhouse  710 Milford Ave (on Hwy 50) Salida, CO 81201
• Currents 122 North F Street Salida, CO 81201
• Elevation Beer CO 115 Pahlone Pkwy, Poncha Springs, CO
• Hwy 50 Burger 445 E. Hwy 50, Salida, CO 81201
BAR AND GRILL
• Victoria Tavern 143 North F Street, Salida, CO 81201
• Benson's Tavern & Beer Garden 128 North F Street  Salida, CO 81201
• Wallbangers Sports Bar 720 E Hwy 50  Salida, CO 81201 
 ITALIAN
• Amicas Pizza, Microbrews, and More 136 E 2nd Street  Salida, CO 81201
• Ferraros 216 North F Street  Salida, CO 81201
• Grimo's Italian Restaurant 146 Main Street  Poncha Springs, CO 81242
PIZZA
• Moonlight Pizza 242 F Street  Salida, CO 81201
• Amicas Pizza & Microbrews 136 E 2nd Street  Salida, CO 81201
• Domino's 150 E Hwy 50  Salida, CO 81201
MEXICAN CUISINE
• Fiesta Mexicana 1220 Hwy 50   Salida, CO 81201
• Tony's Restaurant 11346 Hwy 50   Poncha Springs, CO 81242
AMERICAN CUISINE
• The Fritz 113 E Sackett Street  Salida, CO 81201
• Shallots Restaurant and The Alley Bar 137 E First Street  Salida, CO 81201
• Country Bounty Restaurant 413 W Hwy 50  Salida, CO 81201
ASIAN
• The Great Wall 139 W 3rd Street   Salida, CO 81201
• Little Cambodia 135 North F Street   Salida, CO 81201
• Thai Mini Cafe` 11150 W Hwy 50  Poncha Springs, CO 81242
SANDWICHES, SUBS AND HOT DOGS
• Mama D's 140 F Street   Salida, CO 81201
FAST FOOD
• McDonalds of Salida 840 E Rainbow Blvd   Salida, CO 81201
• Pizza Hut 1070 E Rainbow Blvd   Salida, CO 81201
• Sonic Drive-in 7820 W Hwy 50   Salida, CO 81201
• Subway 1112 E Rainbow Blvd   Salida, CO 81201