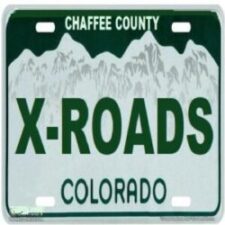 Road trip to Colorado

X-Roads stages and all loops cloverleaf from near Buena Vista in Chaffee County, Colorado.
Off of Hwy's 285 & 24 on Trout Creek Pass.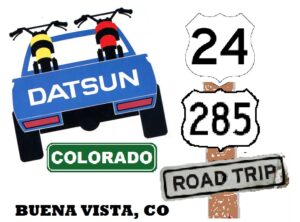 Where is the Heart of the Rockies ?
2.5 hours West of Colorado Springs on Hwy 50

3 hours West of Pueblo on Hwy 50

3 hours Southwest of Denver on Hwy 285

3.5 hours East of Grand Junction on Hwy 50

3.5 hours North of Santa Fe, NM on Hwy 285

2 hours South of Leadville on Hwy 24/285 off of Hwy 70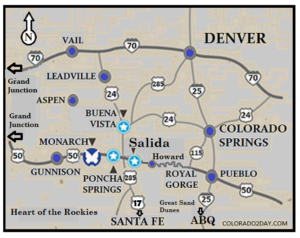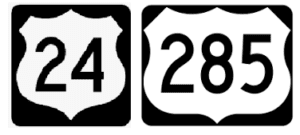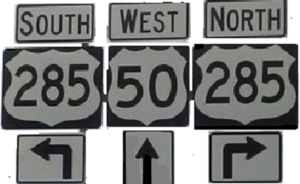 Google MAP LINK to Hwy's 24 & 285 at Buena Vista

Camping & Staging at X-Roads BV
There are 120 private acres at the River Park Mine on which to camp and stage.
Camping spots are level and available in the freshly mown grass
Or under the trees along the creeks.
There is more than enough room to spread out if you wish.
Plenty of firewood is available onsite for a campfire if you'd like.
There are 2 creeks suitable for bathing, and Arkansas River access for more bathing & fishing.
New Porta Potties will be on site.
Showers are available at 2 nearby Hot Springs for a fee, if you wish to shower and soak in the Rocky Mountain Hot Springs.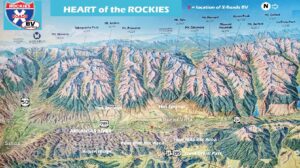 X-Roads BV Stages & Camping is available off of Trout Creek Pass.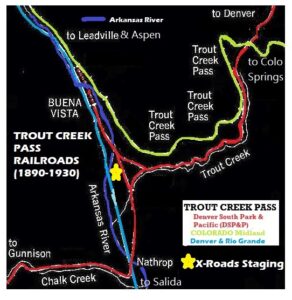 X-Roads BV stages 1 mile from Johnson Village
On the other side of the Arkansas River.

Dominos Pizza, a Liquor store and Fuel is available in Johnson Village

Downtown Buena Vista and South Main street are less than 3 miles away, will all amenities typically available in a small town.