OLD COWTOWN RESORT
DUAL SPORT RIDES
September 7 – 9, 2018 & October 5 – 7, 2018
Old Cowtown Resort

Old Cowtown Resort is an exclusive resort that happens to be in one of the Most Excellent Unknown Locations for a Motorcycle ride in the Heart of the Rockies Mountains.
Exit Tours Motorcycle Club will bring 2 all inclusive events set within this unique riders paradise in South Central Colorado this year.
Arrive Friday and enjoy Saturday & Sunday riding your Dirt Bike and staying at a private multi-million-dollar Town built in 2005 with no expense spared. Modeled after a Wild West Town out of the Movies. Access to Millions of acres of National Forest and 1,000's of miles of 2 Track & Trails.

Old Cowtown Resort sits in its own 350 acre private valley, surrounded by low mesa's at the site of an actual Stagecoach Stop from the 1800's.

Hotel & Dancehall @ Old Cowtown Resort
Old Cowtown Resort Includes:
A 4 Star 10 room Hotel, an open Lodge,
a non-denominational Church, a Dance Hall and Bar. Mercantile and General Store, a Carriage Museum, a Saloon & Restaurant. Volleyball Court, Horseshoes, miniature Golf, Bon-fires and Wi-Fi.
The Carriage Museum houses some authentic carriages from the previous century. The actual hearse carriage from the movie Tombstone. And our favorite, an actual Chariot from the movie 'Ben Hur'.
Chariot from the Movie Ben Hur
Everything you need for a True Adventure and an unforgettable epic weekend.
An entire private resort used solely for this all inclusive event, with nothing but like-minded motorcycle enthusiasts as your companions for the weekend.
Surrounded by millions of acres of Forest land, this is a true Motorcycle riders paradise! With all the necessary amenities included…
It doesn't get any better than this. Walk out the front doors from this amazing property, saddle up and ride!
Continental Divide @ Bonanza
TERRAIN DETAILS
The Headwaters of the Rio Grande River start near Poncha Pass, Saguache and Bonanza.

We will ride in the Watershed of 3 Major American Rivers:

The Rio Grande,

Arkansas

and Colorado Rivers.

Ride over the Continental Divide, via multiple off-road mountain passes up to 12,000 feet.

Ride along the Arkansas River off-road and over a pass thru the wilderness.

Loop options with GPS and Roll Charts. From Smooth 2 track to Rocks and challenging Singletrack.

Access to old Toll-Roads, old Railroad Right-of Ways and the longest continuous Singletrack Trail in the State of Colorado.

Ride to and past old mines in the Bonanza Mining District.

There are many options for historical interpretation and visiting old mines in the area.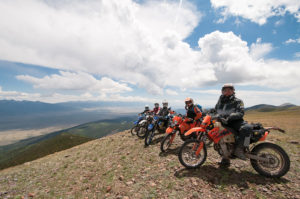 Team @ 12,000 feet on Whale Hill. San Luis Valley @ 8,000 feet in the valley floor.
EVENT DESCRIPTION
Our rides vary in elevation from 7,000 to over 12,000 feet.

We only use pavement to tie Loops together.

Autumn Weather in the Rocky Mountains is ideal. The scenery green in September, Autumn Tree colors should be outstanding in October and the stars are epic at night in the San Luis Valley.


Terrain is little used 2 Track, jeep roads, singletrack and a few rocks.

You will cover the routes with a roll-chart and/or GPS. No arrows or Guides.

You should make sure to bring fuel and a DOT Fuel container that could be transported.

This is a non-commercial group club ride for under 75 riders, not paying an entry fee for the ride but for amenities with the ride on an unguided ride with roll charts, GPS Tracks and outriders.
Our concept for these adventures was to make these rides accessible to everybody. These are not the exclusive Colorado rides you've heard about where you need an invitation.The ride cost is a 1/3 of what the 'Invitation' rides in Colorado cost.
In addition, this ride cost is not much more than what it would cost for you to pay for lodging, meals and gratuities without the convenience of a planned ride in an amazing, exclusive location.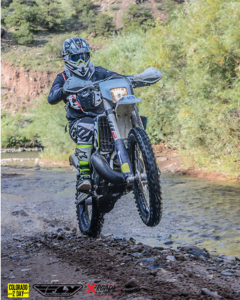 Club Membership




Lodging –

We have reserved camping areas for:

Tents

Trailers

RV's with Hook-ups

Bunkhouse lodging in an open Lodge

Shared Bathroom Facilities with Private Showers Available
Outside of what has been reserved for this event, limited Hotel rooms are available for an additional cost with a full bath. Only 12 beds and 6 rooms will be available, grab them while you can. You have the option for a Hotel room at a special rate. Call for Special Pricing:719-581-7441
7 Meals – 2 breakfasts, 2 Lunches, 2 Dinners and an after ride BBQ on Sunday.

Friday night buffet Dinner

Saturday Morning Buffet Breakfast

Bag Lunch

Buffet Dinner Saturday

Sunday Morning Buffet Breakfast

Bag Lunch and after ride Barbeque Sunday

Breakfast included Monday with overnight Camping or Lodging Fee.
NOTE – Alcohol is Not included with this event, but is available for Purchase.

2 to 3 Days of planned riding (Friday to Sunday)

Optional ride on Monday. (See Sign-Up Page)



Three to four Days of sharing in the camaraderie of like minded enthusiasts in a private resort


T-Shirt

Finisher Pin

Friday Night Bonfire

Live Music Saturday Night (Open to the the Public)


Horseshoes, Volleyball and miniature Golf

Outriders with Emergency Communication


Chase Truck if Applicable

SWAG & Product Discount Coupons

Option to bring your Significant Other or a non-riding Guest for a Autumn Rocky Mountain Vacation
You will not get lost in the crowd as these rides are limited to less than 75 riders.

WEEKEND SCHEDULE



FRIDAY
Show up Friday @ Old Cowtown Resort, settle into your selected choice of Lodging. See detailed options and pricing on Sign-Up Page.

Acclimate to the altitude, sit back and relax within this very unique environment – Or:

As an added bonus warm-up for the weekend go for a short ride on the property or ride to a secret POW Memorial ?

The weekend kick-off starts with a buffet meal @ 7 pm, a bonfire and hanging out with your fellow enthusiasts for the weekend.
SATURDAY
Breakfast starts @ 7 am

Choice of Riders meeting @ 7:30 or 8:30 am

If you're an early riser take off after the Riders meeting. Otherwise be ready by 9 am for an epic all day ride.

Bag Lunch on the trail

Live music Saturday evening, that is open to the Public. Enjoy the Music, dinner and the Onsite Saloon.
SUNDAY
Breakfast starts at 7 am

Choice of Riders meeting @ 7:30m or 8:30

If you're an early riser take off after the riders meeting. Otherwise be ready by 9 am for an epic all day ride.

Bag Lunch on the trail

Return to old Cowtown and enjoy the post-ride BBQ


After dinner, take advantage of Joyful Journey Hot Springs, available at a special discount.

Don't think you'll have had enough? Option to extend your stay at Old Cowtown Resort, for a special reduced rate that includes breakfast Monday morning.

"Or call it great ride and head home."
MONDAY
Additional camping or lodging fee required for Monday.

Enjoy Breakfast from 8 am.

If your Game, we can do a 125+ mile r

ide on the longest continuous singletrack trail open to motorcycles in the State of Colorado.

We will portage Fuel and Lunch.

Return to Old Cowtown Resort and say Adios.

Old Cowtown Resort is just out of Saguache, Colorado between Salida and Gunnison off of Hwy 114
https://goo.gl/maps/h8SvtRwg7PL2
36710 County Road CC36, Saguache, CO 81149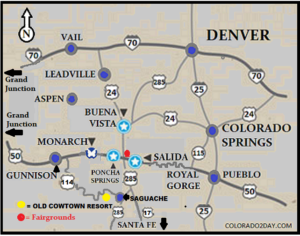 CALENDAR LINKS