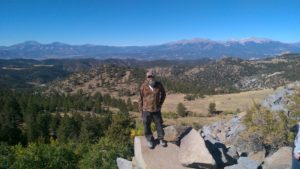 A Little Colorado History First
The 2018 version of  2 Day ADV Tours can visit and pass thru dozens of Historic Gold & Silver Mining Towns or Outposts. Before the invention of the automobile, most were served by Narrow Gauge Steam Engines of the previous century.
D&RGW Roundtable in Salida Colorado in the 19th century
Currently only 2 of the towns we may visit have an active railroad, Center and the Scenic Tourist Train in Leadville. Leadville and Buena Vista were both served by 3 Railroads during the mining boom from the 1870's to the 1890's.
Kurt Caselli Wheelie's in the Sand @ Dakar
All these towns we could visit are either historic mining towns or were Railroad supply meccas. At one time Leadville was the 2nd largest city in Colorado, and one of the Largest Silver Mining Camps in the World with over 15,000 hardy inhabitants before the turn of the 18th century.
Leadville is the 2nd Highest City in the Country, with a fun town motto of:
"It's All Downhill from Here."
Aspen is the 2nd Largest City we could visit (at least in the Wintertime). Gunnison with a Colorado College is the Largest. Save for Gunnison none of these towns has a population over 5,500 and few have hardly over 100 residents.
Downtown Salida is a Recreation Hub
Salida is a unique mountain community nestled among snow-capped 14,000-foot mountain peaks. With a population of 5,500. Salida is the Chaffee county's largest town and serves as the economic and tourism hub of the Upper Arkansas River Valley.
The area boasts multiple recreational opportunities including world-class skiing, Jeeping, whitewater rafting, gold medal fishing, numerous Mountain Passes & Jeep roads and mountain biking trails to name a few.
Salida was established as a railroad town in 1880 and became a major division point on the Denver and Rio Grande Railroad.
'S' Mountain in across from Downtown Salida before the 'S' and the old Denver & Rio Grande Railroad Station
HOT SPRINGS INFO
Tours – Dates & Map Links
Ponderosa Lodge, Maysville, CO
July 20-21-22 
Salida Hot Springs Pool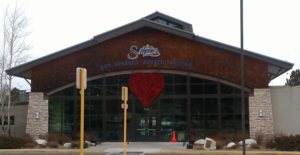 http://salidarec.com/public-pool/
Salida is proud to be home of the largest indoor hot springs in North America. As well as the only publicly-operated aquatic facility within 100+ miles of the Heart of the Rockies.
AVERAGE POOL/SPA TEMPERATURES
Lap Pool: 84-86 degrees
Leisure Pool: 97-100 degrees
GOOGLE MAP LINK
https://goo.gl/maps/kFpKhaL67RK2
______________________________
Tomichci Creek Trading Post

August 3-4-5  
Waunita Hot Springs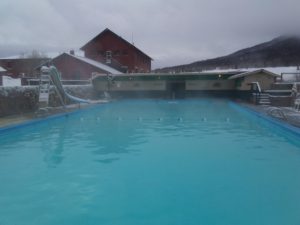 Waunita's offer a 35 ft wide by 90 ft long pool — one of the largest private swimming pools in all of Colorado — and it's completely fed by the Natural Hot Springs.
GOOGLE MAP LINK
https://goo.gl/maps/6BYmjuYVqH92
This means no matter the outside temperature is, we're able to keep the Pool a nice and soothing 95 degrees and an adjacent hot tub is maintained and 100 degrees.
After a day of riding, hiking or whatever your activity your into, you'll find the hot springs a great place to relax. Waunita Hot Springs will only be visited by reservation on the 2 Day ADV Tours & Camps.
___________________________
  Ponderosa Lodge, Maysville, CO
August 31 – September  1 & 2
Salida Hot Springs Pool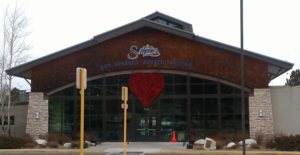 http://salidarec.com/public-pool/
AVERAGE POOL/SPA TEMPERATURES
Lap Pool: 84-86 degrees
Leisure Pool: 97-100 degrees
GOOGLE MAP LINK
https://goo.gl/maps/kFpKhaL67RK2
 ________________________________
September  8 & 9 Joyful Journey, San Luis Valley, CO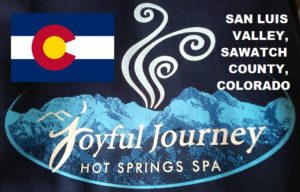 http://joyfuljourneyhotsprings.com/
Although the water rises from the travertine springs at between 120 and 145 degrees, Joyful Journey maintains the pools between 98 and 108 degrees.
GOOGLE MAP LINK
https://goo.gl/maps/LPitr6QCUBN2
The water is a sodium bicarbonate type with significant levels of boron, calcium, lithium and magnesium along with several other beneficial minerals.
Native American elders and spiritual masters from the Crestone area consider this area on the west side of the Sangre de Cristo Mountains as one of the most sacred and energetically active places in North America.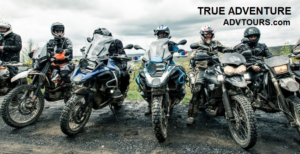 It is said that the water here is encoded with the energy of the earth from which it rises. Perhaps then, this water indeed is unique and special among all the hot springs of the state.
The 98°F cool pool is perfect for those with low tolerance of hot water and that still want to get the benefit of our minerals.
The 104°F tower pool is a great middle temperature for soaking.
The 108°F hot pool is an ideal temperature for those with arthritis, joint and muscle issues – with spectacular views of the mountains.
_________________________
Elephant Butte Resort & Spa
October 20 & 21   
Truth or Consequences, New Mexico


http://www.riverbendhotsprings.com/index.html
Riverbend's Riverside, Mountain View, Hot Mineral Springs are just what you need for a quiet, relaxing retreat and a truly healing experience.
GOOGLE MAP LINK 
https://goo.gl/maps/MK4Tq7VuD9B2
Of all of the many Hot Springs in the Southwest, Riverbend truly is unique.
The therapeutic benefits of Riverbend's geothermal water have been known and used long before Geronimo and his Apache warriors left their weapons behind and spent the most peaceful time of their lives here as guests of Chief Victorio of the Warm Springs Apaches.