Headwaters to Utah National Parks Adventure Ride October 23-30
Saturday to Saturday Adventure Ride to Utah National Parks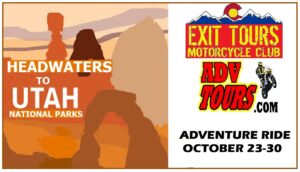 This will be an Epic Loop to Moab, Utah and 3 of Utah's National Parks from Buena Vista, Colorado.
Head to Leadville, then up and over Hagerman Pass to Glenwood Springs. Spend the first night at Theodore Roosevelt's favorite hotel, the Hotel Colorado in Glenwood Springs.
Day 2 follow the Colorado river to the Grand Mesa. Once on the Grand Mesa, head towards Lands End Road then towards Delta and Grand Junction. Cross the Gunnison river and then head South toward the Delores River and Gateway, Colorado. Finish Day 2 at a Gateway Resort. We will take as many unpaved roads from Buena Vista to Gateway as feasible in the time allocated.
Day 3 head off road to Moab. Once in Moab, we will set up a staging area to explore 3 of Utah's National Parks.
Arches – Canyonlands & Capitol Reef. Spend 4 days exploring on self guided rides the spectacular scenery that is Utah's National Parks. The weather in October is generally mild and the crowds have gone. The trees are changing colors. The summer heat is gone and the air is brisk.
The choice of Lodging or camping is up to you. The club will supply GPS Tracks, assist with luggage portage and a chase truck, purchase some meals and BBQ's around a campfire so we will have some most excellent camaraderie.
The club is not going to plan for you how to spend 4 days exploring Moab and National Parks, but we will supply suggestions for fun rides and spectacular scenery, but how you spend your day is on you. The club will host a staging area and nightly BS sessions in Moab.
There are several options for the ride back to Colorado. You could hi-tail it on pavement or explore even more spectacular scenery on some of Colorado's Mountain Passes on the way back towards Buena Vista.
If you have always wanted to see some of Utah's National Parks and ride your Motorcycle, this is an Opportunity to do it before we get to old to pull it off.
8 Days total, 2 days going and 2 days returning over the Headwaters Region. 4 Days in Moab exploring National Parks. Bring your significant other on an Epic Adventure ? Or come by yourself. There will be fun people to hang out with and enjoy the great outdoors.
As stated above, the club will supply GPS tracks you wouldn't find on your own. Portage your gear and supply a chase truck if there were any issues. Host a staging area and purchase a few meals and beverages. Build campfires and suggest Lodging. There are opportunities in the area for Lodging from mild to wild.
Get in touch and lets make it happen ? Exittoursmc@gmail.com