2021 EXIT TOURS MC RIDE DATES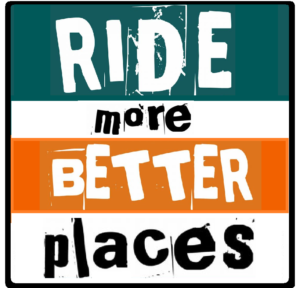 APRIL 30-MAY 3

SAN ANDREAS 300 DUAL SPORT & ADV RIDE *

JUNE 10-13

SPANISH BORDER ADVENTURE *

JUNE 20

ALPINE TUNNEL FATHER'S DAY DUAL SPORT RIDE – No Cost

JUNE 27-30

ADVENTURE RIDE ON THE CONTINENTAL DIVIDE *

JULY 4-5

4TH OF JULY PIKES PEAK THROTTLE THERAPY ADVENTURE

JULY 11-16

TRAILRIDE WEEK *

JULY 29-AUG 2

X-ROADS BUENA VISTA VINTAGE – DUAL SPORT , TRAILRIDE & ADV

AUGUST 5-8

X-ROADS CHAFFEE COUNTY SINGLETRACK & DUAL SPORT and ADV RIDE FROM THE PONDEROSA LODGE

AUGUST 21-22

PIKES PEAK ADVENTURE LOOP FROM SALIDA

AUGUST 26-30

X-ROADS TRAILRIDE *

SEPT 17-20

SPANISH BORDER ADVENTURE *

OCT 1-2-3

EMTB TRAILRIDE (ELECTRIC MOUNTAIN BIKE) FROM THE PONDEROSA LODGE

OCT 23-30

HEADWATERS TO UTAH NATIONAL PARKS ADV *

NOV 19-22

THE LAS VEGAS 300 – LAS VEGAS VALLEY LOOP *
* = Gear portage
SCROLL DOWN FOR MORE INFO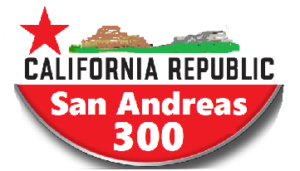 1. APRIL 30 to MAY 3
SAN ANDREAS 300 DUAL SPORT & ADV RIDE *
Two Day Dual Sport ride from Pozo to Ballinger Canyon and back. Camp & Lodging. Adventure ride to Pismo Beach from Pozo on Monday. This Ride is All Inclusive.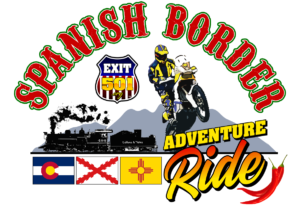 2. JUNE 10-13
SPANISH BORDER ADVENTURE *
Three Day point to Point Adventure ride. Antonito, CO to Tres Piedras, NM. Overnight at the Chili Line Depot to the Rio Grande Gorge, NM to Overnight inTaos, NM. Return to Antonito, CO. Ride in a little known area of Northern New Mexico and Southern Colorado.

3. JUNE 20
ALPINE TUNNEL FATHER'S DAY DUAL SPORT and ADV RIDE
advtours.com/fathers-day-ride/
Loop to the Historic Alpine Tunnel on Father's Day. 2 Loops available. Dual Sport & ADV. No Cost for this ride – No Amenities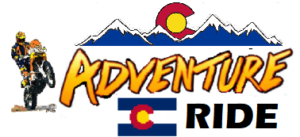 4. JUNE 27 -30
CONTINENTAL DIVIDE ADVENTURE *
advtours.com/continental-divide-adv-ride/
Four Day, 650 mile ride around and over the Continental Divide from and to Colorado Springs. Multiple Mountain Passes. As much ADV suitable off-road as possible.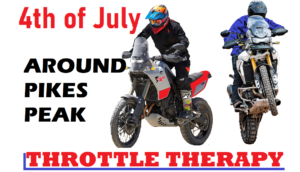 5. JULY 4-5
PIKES PEAK THROTTLE THERAPY ADVENTURE
advtours.com/pikes-peak-adventure-ride/
Two Day Adventure Ride around Pikes Peak from Colorado Springs to overnight in Salida. Start and finish in Colorado Springs. Enjoy Salida's spectacular Fireworks show on the 4th of July. As much ADV suitable off-road as possible.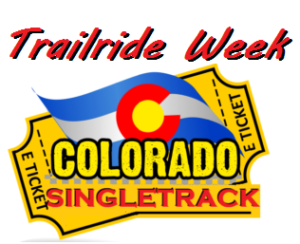 6. JULY 11-16
TRAILRIDE WEEK *
Five Days of Singletrack Dual Sport loops. True 'E' Ticket Singletrack Loops. Sunday to Friday. Travel on the weekends. Overnight Monday in Cabins in Sargents. Move up the valley Thursday.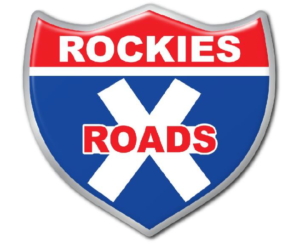 7. JULY 29-AUG 2
X-ROADS BUENA VISTA VINTAGE – DUAL SPORT & ADVENTURE RIDE
Dual Sport, Trailride & Adventure Loops from Buena Vista for 5 days. Bring your Vintage and your modern Motorcycles. Loops for both.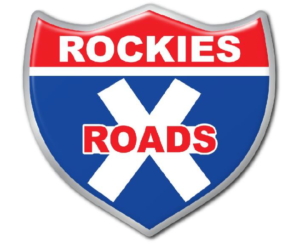 8. AUGUST 5 -8
X-ROADS CHAFFEE COUNTY SINGLETRACK & DUAL SPORT & ADV RIDE
Dual Sport, Singletrack & Adventure Loops from the Ponderosa Lodge in Maysville for 4 days. Ride to Alpine lakes & reservoirs and the Arkansas river and fish ? 50 riders max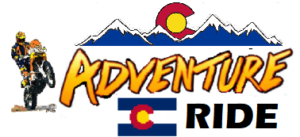 9. AUGUST 21-22
AROUND PIKES PEAK ADVENTURE
advtours.com/around-pikes-peak-adventure/
Salida to around Pikes Peak. Overnight in Victor. Old Railroads Right-of-Ways. 300+ mile loop. Super Fun ride. As much ADV suitable off-road as possible.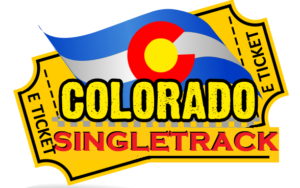 10. AUGUST 26-30
X-ROADS TRAILRIDE *
https://advtours.com/x-roads-trail-ride/
From Howard to Sargents and back. 25 riders. 3 routes. 3 days riding. Epic Singletrack. Overnight on Day One. Lodging or Camping available.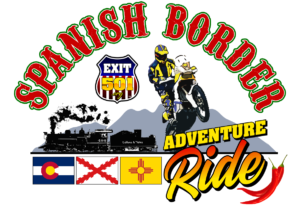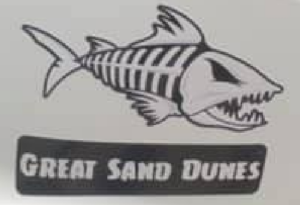 11. SEPTEMBER 17-20
SPANISH BORDER ADVENTURE *
4 Day Point to Point Adventure ride. Antonito, CO to Rio Grande Gorge to Taos, NM to the Great Sand Dunes Hot Springs back to Antonito. Ride in a little known area of Northern New Mexico and Southern Colorado. Start & Finish at an old High School. Camp on the utterly spectacular Rio Grande Gorge. Stay in Taos and camp at the Sand Dunes Hot Springs.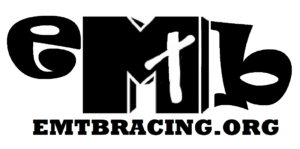 12. OCTOBER 1-2-3
EMTB TRAILRIDE (ELECTRIC MOUNTAIN BIKE)
40 mile EMTB TRAILRIDE on a portion of the Continental Divide Trail. From Maysville. 75 riders, 2 day event. Pre-ride to an Alpine Lake and acclimate on Saturday. Lodging available Friday & Saturday night. Ride to Old Monarch Pass and Monarch Pass on a majority of off-road on Sunday. Ride across the Continental Divide Trail and down Greens Creek Trail. Plenty of Climbing and plenty of Downhill.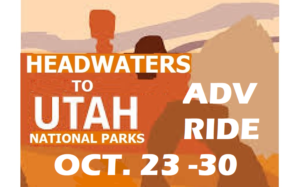 13. OCTOBER 23-30
HEADWATERS TO UTAH NATIONAL PARKS ADVENTURE *
advtours.com/headwaters-to-utah-nat-parks/
Buena Vista to Glenwood Springs on the Colorado River. To Gateway, CO. To Moab and Arches & Canyonlands National Parks. Return to Buena Vista over the Continental Divide. Lodging or camping available. Week long adventure to 3 of Utah's National Parks.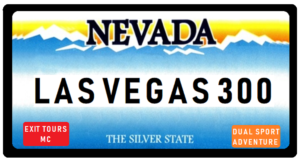 14. NOVEMBER 19-22
THE LAS VEGAS 300 DUAL SPORT – LAS VEGAS VALLEY LOOP*
Nov 20-21. 300 Mile Loop overnight around Las Vegas from the Hoover Dam Lodge to the Pahrump Nugget & back. Move to Tecopa, CA, Delight's Hot Springs, China Date Farm & Gunsite Mine Nov. 22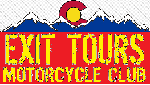 TYPICAL RIDE OUTLINE
Club Membership is $399 for 2021 and includes your first ride
Additional or subsequent rides are $199.
Your Dad, spouse or adult children may ride with a Club member for $199
Associate membership for Vintage Dual Sport Adventure is $199
EMTB Trailride Associate membership is $199
All rides start and finish and camp on Private property
Self-navigation by GPS Tracks.
Multiple Loop options available on Dual Sport rides
Riders are not paying for the ride, but the Amenities with the ride, which could Include:
GPS Tracks, T -shirt, Hat, Coffee cup, access to private property, participant pin, Breakfast & Dinners. Swag drawing. Circus Tent Rental. Event Liability Insurance. Private Property rental. Vintage Dual Sport would include Swap Meet and Bike show
We insist all riders use the buddy system and look out for each other
Lodging is Not included (Camping may or may not be included)
Membership includes access to Ride with GPS Club Forum to discuss planning & rides with members
No Trail Markings.
No Sweep Riders.
Club Dual Sport Rides limited to 50 or fewer riders for 2021.
Club Adventure and Singletrack Rides limited to 25 or fewer for 2021
Vintage Dual Sport & Adventure & EMTB trailride weekend 75 rider limits
* Luggage portage on point-to-point rides
No Club Membership required for Fathers Day Loop
Extra-curricular activities available: Rafting and Hot Spring Pools
For 2021 Join the club for $399 and your first ride is included. This curtails the USFS issue of paid events/ rides. You're a club member and a ride is included with club membership.